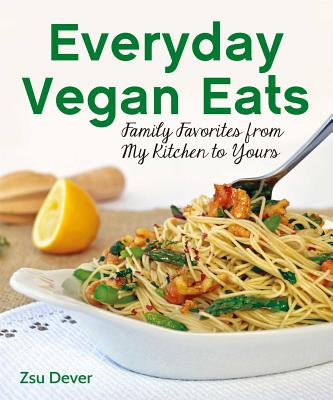 Everyday Vegan Eats (Paperback)
Family Favorites from My Kitchen to Yours
Vegan Heritage Press, LLC, 9780985466268, 253pp.
Publication Date: May 13, 2014
* Individual store prices may vary.
Description
Home-style family dishes from expert cook and photographer Zsu Dever, who convinced her family to go vegan and cooks delicious meatless meals for them every day. Great comfort food with substitution options for allergies. The book is easy to use and has full color photos. With expert cooking skills, California restaurant veteran Zsu Dever not only convinced her family to go vegan, but has kept them happy for many years with a variety of home-style dishes. In this book, she shares the secrets of how she did it and how you can make her family's favorite dishes at home.
Everyday Vegan Eats
is filled with comfort-food recipes guaranteed to please everyone at the table, from vegans to omnivores. The recipes focus on familiar favorites that have been reconfigured to suit a healthier lifestyle, including:
Tater Tot Casserole
Lasagna Americana
Arroz non Pollo
Deli Reubens
Baked Macaroni and Cheese
and many others
The book contains clearly written recipes made with easy-to-find ingredients, a number of practical step-by-step recipe photos, and helpful tips for the beginner to make "going vegan" easy and delicious. The book also helps readers get the most out of vegan living with tips on vegan basics, how to shop, and stocking a vegan pantry. The book has full-color photos and features appendices for resources, a glossary, and equipment, as well as helpful indexes.
About the Author
Zsu Dever is the publisher of Zsu's Vegan Pantry, a popular food blog where she shares recipes and photographs of the food she makes and provides tips for going vegan. Zsu hails from a long line of culinary professionals and restaurateurs and has been involved in the restaurant business most of her life. She is passionate about teaching new vegans how to succeed with their newly chosen diet. A vegan for nearly fifteen years, Zsu is a homeschooling mother of three and resides in San Diego, CA. Everyday Vegan Eats is her personal collection of superb vegan recipes.