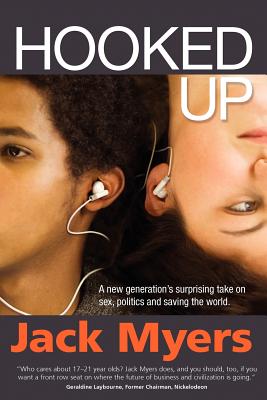 Hooked Up (Paperback)
A New Generation's Surprising Take on Sex, Politics and Saving the World
York House Press, 9780985550806, 272pp.
Publication Date: June 1, 2012
Description
After two decades of technological disruption, economic collapse, social upheaval, political polarization and a war on terror, one generation carries on its shoulders the responsibility to return us to a time of social balance and economic growth. The Hooked Up Generation was born into disruption, but is destined to lead the world into a transcendental period of tolerance and peace. They are hooked on the Internet, hooked together by the Internet, and hooking up in relationships managed and defined by the Internet.
Jack Myers tells you why today's college students may prove to be the next Great Generation and possibly the greatest generation of the 21st century. The Hooked Up Generation will make you hopeful about its future and yours.
Once again, Jack Myers has his fingers on the pulse on the very latest, the impulses of the kids who will one day run the whole show, and he has the statistics to back up his cogent insights. This is by turns an absorbing, disturbing and ultimately indispensable account of a hugely misunderstood demographic group that will shape our future. Myers clearly has done his homework and the result is this superb study.
Ken Burns, Filmmaker
At the Newhouse School, we are living with the Hooked Up Generation and experiencing the extraordinary transformation that Jack Myers has brilliantly captured. This is a must read for educators, parents and all those who care about the next generation of leaders.
Lorraine Branham, Dean, S.I. Newhouse School of Communications at Syracuse University
These Internet Pioneers, born between 1991 and 1995, are not like us. They absorbed the Internet like a native language while the rest of us struggled to learn it. Any time now, these pioneers will be commanding the agenda and we d better understand them. Hooked Up is the best guide to the future that I ve yet come across.
Sir Martin Sorrell, CEO, WPP Group
The Hooked Up Generation is rewriting feminism, sexuality, politics, education, language, relationships, and media. This accessible and fascinating book brings new insights into how our cyber-society is shaping a captivating generation. The message is clear: the Hooked Up Generation offers hope for the future of our planet.
Mary Brabeck, Dean of the Steinhardt School, New York University
Advertisement