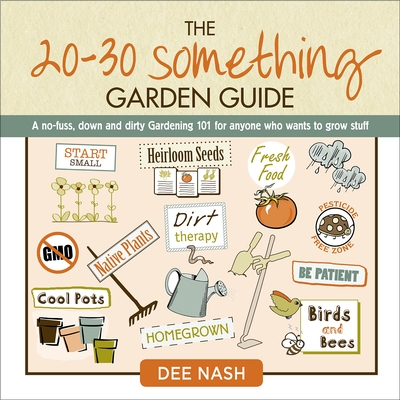 The 20-30 Something Garden Guide (Hardcover)
A No-Fuss, Down and Dirty, Gardening 101 for Anyone Who Wants to Grow Stuff
St. Lynn's Press, 9780985562274, 140pp.
Publication Date: February 15, 2014
* Individual store prices may vary.
Description
Urban farming is the hot new movement sweeping the country: growing food closer to where we live, whether it's on a condo deck, in a backyard or in a community garden. The 20/30-Something Garden Guide gives that busy, mostly urban, cohort a fun, non-intimidating introduction to the basics of gardening. These are the folks who want to know where their food comes from, and they're hip to the importance of good health and the environment. They may not have a lot of free time or change in their pockets, but if they could find a no-fuss Gardening 101 that spoke their language and gave achievable goals, they'd go for it. This is that book: high graphic appeal, fully illustrated, step-by-step projects and essential tips. Garden expert Dee Nash divides her book into four types and sizes of gardens, starting with "Farming Your Patio, Balcony or Deck," and giving incremental goals for the first year, and the second and third. With this guide as a basic roadmap, new gardeners can be as creative and out-of-the-box as they want. It's theirs to enjoy.
About the Author
Dee Nash is the mother of two "20/30-Somethings." Her garden writing has appeared in Organic Gardening, Fine Gardening, flower, The Oklahoman, and the Oklahoma Horticultural Society's Horticultural Horizons. She regularly contributes writing and photography to Oklahoma Gardener. For three years she wrote for Lowe's "Creative Ideas Team" blog, and she currently writes online features for Fiskars(R) Corporation and Proven Winners(R) plants. She is a member of the Garden Writers Association. Her blog, http: //reddirtramblings.com was voted Best Garden Blog of 2011 by Horticulture magazine. She also posts on her YouTube channel: https: //plus.google.com/u/0/106216649199501412059/posts