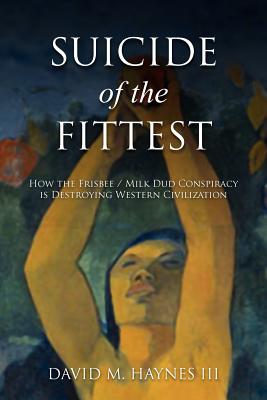 Suicide of the Fittest (Paperback)
How the Frisbee/Milkdud Conspiracy Is Destroying Western Civlization
Tropical Exile, 9780985598709, 164pp.
Publication Date: August 7, 2012
* Individual store prices may vary.
Description
"Suicide of the Fittest: How the Frisbee/Milkdud Conspiracy is Destroying Western Civilization" (ISBN 0985598700) presents a learned and satiric description of how Western culture has lost its way. Through impassioned reasoning and marshalling of facts, Haynes shows how Western culture is slowly committing suicide as it "charitably" tolerates a worldview that works ultimately against society's best interests. He argues that as a culture we are allowing ourselves to be exploited by humanity's worst elements through our aspirations of tolerance and goodness. Intended to reshape readers' views on the future development of our nation and culture, "Suicide of the Fittest" mixes realism with biting humor, while taking a lacerating and comedic look at the most serious of topics.
About the Author
David M Haynes, III is nearing retirement from a 29 year career as an airline pilot. His work has given him opportunities to travel extensively throughout Europe, North and South America, the Caribbean, and the Middle East. David has lived in a half-dozen cities in Mississippi and Tennessee. He enjoys flying and writing, and for the past ten years has spent three months each year on a sailboat in the Bahamas. Even more that those hobbies, he enjoys the blessings of fellowship with other committed Christians and the close-knit bonds with his children and grandchildren. But the crowning blessing in all of this is the companionship of Keitha, his wife of 39 years.