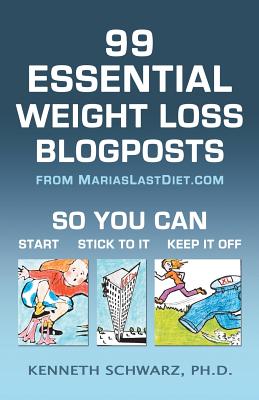 99 Essential Weight Loss Blogposts (Paperback)
So You Can Start, Stick to It, Keep It Off
Symmetry Press LLC, 9780985603069, 262pp.
Publication Date: March 18, 2015
* Individual store prices may vary.
Description
What above all else will make it possible for you to lose weight? It's "getting yourself to do it." That's what. "Getting yourself to do it" is a psychological course of action. These 99 essential weight loss blogposts are all about the psychology you will need for "getting yourself to do it"- START, STICK TO IT, KEEP IT OFF. The very first psychological step you have to take to lose weight is to "get yourself to" START. A good start comes from being able to support your well-meaning intentions. For starting, there are certain essentials for you to keep in mind and be prepared for. Once you are ready to use these essentials, starting will be a lot less troublesome. When you try to STICK TO IT, you will be replacing old behaviors with new behaviors. The psychology in this phase of weight loss is built into a series of actions and steps for you to take. Sticking to it always involves a lot of "getting yourself to do it." In the KEEP IT OFF phase you will no longer be losing weight. Gone will be the safety net of a weight loss diet and the motivational satisfaction of losing weight. More than ever, keeping your lost weight off is the time to have all your psychology working for you.