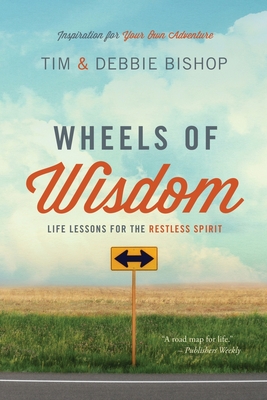 Wheels of Wisdom (Paperback)
Life Lessons for the Restless Spirit
Open Road Press, 9780985624866, 264pp.
Publication Date: June 20, 2016
* Individual store prices may vary.
Description
Winner, 2018 Best Book Awards, Christian Inspirational
Winner, 2018 Next Generation Indie Book Awards, Christian Nonfiction
Winner, 2017 National Indie Excellence Awards, Inspiration
Gold Medal, 2017 Readers' Favorite International Book Awards, Devotional
Bronze Medal, 2018 Illumination Book Awards, Devotional
Bronze Medal, 2018 Independent Publisher Awards, Personal E-book
Finalist, 2018 Next Generation Indie Book Awards, Inspirational Nonfiction
Semifinalist, 2018 Kindle Book Awards, Nonfiction

Looking for more out of life? After three tours totaling over 10,000 miles, Tim and Debbie Bishop have discovered wisdom and truth from the seat of a bicycle. In Wheels of Wisdom, the authors share the life lessons they learned on the open road. When you're looking for enlightenment, you can find it almost anywhere, be it from watching two herons saunter across a Florida road, pedaling to a dead-end in a Kentucky tobacco field, or observing eagles flying overhead in Montana. In each lesson of this book, you'll find practical insights, inspiration, and encouragement—along with personal reflection questions that will help you: - Adopt the right mind-set - Conquer fear, worry, and inaction - Overcome obstacles - Relish life's journey Certain principles are universal whether you are bicycling across America or chasing your own lifelong dream. Wherever you are in life, Wheels of Wisdom will give you a fresh perspective and new motivation for your own adventure. Not only will you encounter meaningful truth as you travel vicariously to new places and meet new people, you'll also experience some genuine "God moments" and have some fun on the way. So, pack up your dreams and passions and come enjoy the ride. It's time to learn on the open road!
About the Author
Tim Bishop is a three-time Maine chess champion, a CPA, and a consultant for small businesses. Debbie Bishop is a teacher who has taught for over thirty years. They are both the authors of Two Are Better. They live in Thompson's Station, Tennessee.
Praise For Wheels of Wisdom: Life Lessons for the Restless Spirit…
"Those looking for a road map for life can get directions from the Bishops . . . The coauthors, who are volunteer coaches for TheHopeLine, share stories and insights cleverly separated into six thematic sections . . . The book incorporates faith without unnecessary preaching."  —Publishers Weekly
"Impressively well written, organized and presented, Wheels of Wisdom is a consistently compelling, informative, and thoughtful read, highlighted with inspirations for pursuing one's goals to the finish."  —Midwest Book Review, Small Press Bookwatch "Reviewers' Choice"
or
Not Currently Available for Direct Purchase