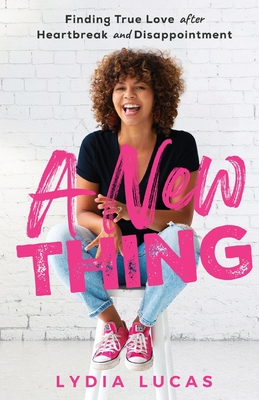 A New Thing
Finding True Love after Heartbreak and Disappointment
Paperback

* Individual store prices may vary.
Description
If you are single, then you may be wondering "Will I ever find true love?" You may have had your heart broken. You may have been disappointed over and over again. The person you thought was truly "the one" may have turned out to be a heartache. You may have tried to make things happen - push a little, prod a little but to no avail. You may have cried your eyes out over the love you once had or the love you are desiring. You may have given up, thinking your past has counted you out for God's blessings. You may be questioning God's promises and plans for your life. If that's you, then Lydia Lucas can relate.
In her book, A New Thing, Lydia invites you on an event-filled journey through the hills and valleys of relationships. Relatable, honest, and at times humorous, Lydia invites you into her world - the world of a single mother living in Spanish Harlem, New York, trying to find true love.
No matter who you are, the reality is that with life comes unexpected blows, and A New Thing is a faith journey that reminds us that even when it does not look like it, or feel like it, God is faithful to His promises. This book reminds us that it is in our deepest, darkest moments that God shapes us, draws us and does a New Thing in us. Journey with Lydia and you too will discover that true love is possible after heartbreak and disappointment.
Vine Publishing, 9780985653590, 180pp.
Publication Date: December 1, 2020