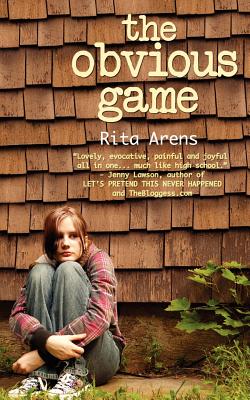 The Obvious Game
Paperback

* Individual store prices may vary.
Description
"Everyone trusted me back then. Good old, dependable Diana. Which is why most people didn't notice at first." "Your shirt is yellow." "Your eyes are blue." "You have to stop running away from your problems." "You're too skinny." Fifteen-year-old Diana Keller accidentally begins teaching The Obvious Game to new kid Jesse on his sixteenth birthday. As their relationship deepens, Diana avoids Jesse's past with her own secrets -- which she'll protect at any cost. Praise for The Obvious Game: "I couldn't put down The Obvious Game. Arens perfectly captures the hunger, pain and uncertainty of adolescence." -- Ann Napolitano, author of A GOOD HARD LOOK and WITHIN ARM'S REACH "THE OBVIOUS GAME is a fearless, honest, and intense look into the psychology of anorexia. The characters-especially Diana--are so natural and emotionally authentic that you'll find yourself yelling at the page even as you're compelled to turn it." -- Coert Voorhees, author of LUCKY FOOLS and THE BROTHERS TORRES "Let's be clear about one thing: there's nothing obvious about The Obvious Game. Arens has written a moving, sometimes heart-breaking story about one girl's attempt to control the uncontrollable. You can't help but relate to Diana and her struggles as you delve into this gem of a novel." -- Risa Green, author of THE SECRET SOCIETY OF THE PINK CRYSTAL BALL.
Inkspell Publishing, 9780985656287, 312pp.
Publication Date: January 17, 2013