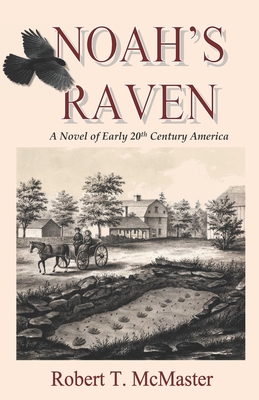 Noah's Raven
Paperback

* Individual store prices may vary.
Description
September, 1917. The nation has entered the Great War, the War to End All Wars. While young Americans by the hundreds of thousands march into battle in Europe, back home the nation's social fabric is torn asunder by patriotic fervor and xenophobia. When two German-American classmates are taunted in the schoolyard, 14-year-old Claire Bernard rushes to their defense. Her noble intentions soon plunge her into a dark world of international conspiracy where prejudice and suspicion blur distinctions between friend and foe, good and evil, where she could well become the next victim. Noah's Raven, a story from a century past that speaks to us across the generations.
Praise For Noah's Raven…
"This book combines a mystery (espionage) with romance among young residents of Holyoke, Massachusetts during World War I. I see it as an excellent read for middle and high-school students in the Connecticut Valley because McMaster has integrated a great deal of local color and historical background information into his narrative."
- Gerald McFarland, author of The Scattered People and The Buenaventura Series

"What a great book! So many book series get less interesting with each edition but McMaster has been able to keep this a "page-turner" with aspects of biology, history, human psychology, cultural and historical features of the time. I loved it."
- Maureen Doyle, Southbridge, Massachusetts
Unquomonk Press, 9780985694463, 296pp.
Publication Date: March 22, 2017
About the Author
Robert T. McMaster grew up in Southbridge, Massachusetts, a New England mill town. He holds a B.A. from Clark University and graduate degrees from Boston College, Smith College, and the University of Massachusetts. He taught biology at Holyoke Community College in Massachusetts from 1994 to 2014. His parents' reminiscences of growing up in early 20th century America were the inspiration for his three novels, Trolley Days (2012), The Dyeing Room (2014), and Noah's Raven (2017).