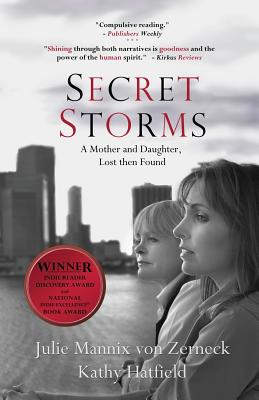 Secret Storms (Paperback)
A Mother and Daughter, Lost Then Found
Blue Blazer Productions, Inc., 9780985735807, 346pp.
Publication Date: March 22, 2013
Description
An Indie Reader Discovery Award and National Indie Excellence Book Award Winner.

A pregnant, nineteen-year-old Philadelphia Main Line debutante is confined, against her will, to a state mental hospital. She spends her pregnancy surrounded by the mentally challenged and the criminally insane. On April 19, 1964, she gives birth to a child, whom she is forced to give up for adoption.

A loving middle-class couple adopts a month-old little girl from Catholic Charities. She is adored and cherished from the very beginning. It is as though she is dropped into the first chapter of a fairy tale-- but we all know how fairy tales go.

This is the story of a mother and daughter. Of what it is to give up a child and what it is to be given up. Of what it is to be a family, and to never lose hope-- because anything is possible. In this award-winning memoir, Julie Mannix von Zerneck and Kathy Hatfield recount the stories of their lives. Written in two distinct and deeply expressive voices, their stories seamlessly meld together toward a breathtaking ending.


About the Author
Julie Mannix von Zerneck was born in Bryn Mawr, Pennsylvania. She traveled with her parents, living in Paris, on the Isle of Capri and in several boarding schools around the world, before settling down at Sunny Hill Farm at the age of nine. There, she lived with a menagerie of animals, including a cheetah and eagle and her very own baby spider monkey. After attending the Neighborhood Playhouse in NYC, she became an actress on Broadway, had running roles in three soap operas and guest starred on many TV series. She is married to the TV producer, Frank von Zerneck. They have three children and four grandchildren and reside in Toluca Lake, California, where, for 26 wonderful years, they were the owners of Portrait of a Bookstore. She is a lifelong collector of antiques and antiquarian books. Kathy Hatfield was born in Philadelphia, Pennsylvania and grew up surrounded by two brothers, twenty-five cousins, and two sets of grandparents in Indialantic, Florida. She attended Florida Atlantic University, after which she worked as a mortgage broker while running her own small business selling men's neckties. She now teaches World Literature at a high school in Florida where she serves as English department chairman. She and her husband of 25 years live in a quaint beachside community with their two daughters. She is a freelance writer and moderator of the Adoption Reunion Stories Facebook page, which currently has over 2,800 members. She's a competitive runner and participates in 5k races when she's not correcting papers.
Advertisement