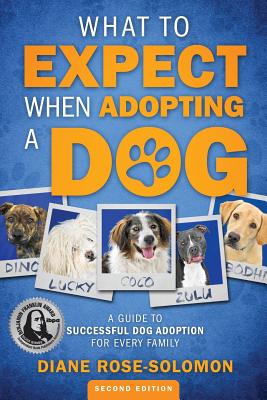 What to Expect When Adopting a Dog
A Guide to Successful Dog Adoption for Every Family
Paperback

* Individual store prices may vary.
Other Editions of This Title:
Hardcover (7/1/2018)
Description
"An insightful, smoothly written, and useful guide for new canine owners." -- Kirkus Reviews
"This book shows that adopting a dog can reward you with years of companionship, joy, and unconditional love." -- 5 Star Review- Kristine Morris Foreward Reviews
"The book is a perfect guide on what to think about, how to prepare for the change, and, most importantly, how to deal with challenges that might arise after adoption. Whenever I hear someone say they are thinking about getting a dog, I will surely recommend them this book as their first step." -- 4.5/5 Star Review Meghana Hulsure, Seattle Book Review
"What to Expect When Adopting a Dog by Diane Rose-Solomon is a handbook that every dog lover should have, a book that is written from experience and from the heart." 5 Star Review-- Romauld Dzemo San Francisco Book Review
"Chapters address how to determine whether one's household is a good 'fit' for a dog, what to expect at shelter/rescue organizations, how to prepare one's home, how to integrate a new dog into one's life, and much more." -- Small Press Bookwatch
"It's important to note that this book leaves nothing left to wonder about: there are over 100 links to these articles and products." -- D. Donovan, Senior Reviewer, Midwest Book Review
" In order to keep adoptable dogs in permanent homes and reducing the risk of re-homing or returning to the shelter, Rose-Solomon's book is one you gift yourself and those who love dogs." Read more at fidoseofreality.com/expect-adopting-dog/ -- Carol Bryant, Fidose of Reality Blog
What to Expect When Adopting a Dog is a guide to successful dog adoption and pet parenting for every family. Anyone considering a new dog has questions, particularly when thinking about adopting a shelter dog. What to Expect When Adopting a Dog offers expert advice from rescue specialists and organizations, veterinarians, dog parents, and pet business owners. The book offers links to the best, most relevant articles from pet professionals along with some useful products, making it a one-stop shop for the most asked dog-related questions, before, during, and after adoption.
What to Expect When Adopting a Dog answers questions like:
Whether dog adoption is right for you
How to adopt a dog from a shelter or rescue group
How to prepare your home for a new furry member
How to integrate your new pup into your home,
family and lifestyle.
How to provide a lifetime of comfort and care from puppyhood through the senior years.
In five modules, Certified Humane Education Specialist and award winning author Diane Rose-Solomon leads the reader through all the steps they should take to decide on a dog, the adoption process, and lifelong care. And, with the shorter lives of animals, she delivers a heartfelt chapter on saying goodbye to a pet.
There are thousands of dogs waiting for a loving home. This book educates a prospective dog parent on what to expect, helping make the experience easier and more joyous.
Sop3 Publishing, 9780985769048, 200pp.
Publication Date: September 15, 2016