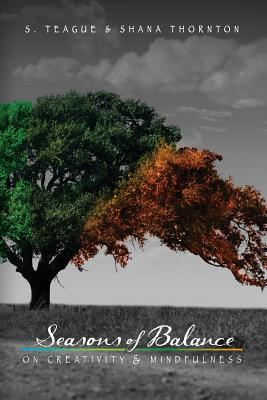 Seasons of Balance
On Creativity and Mindfulness
Paperback

* Individual store prices may vary.
Description
Seasons of Balance: On Creativity & Mindfulness explores the creative life...through changing relationships, fitness practices, meditations, aging, gratitude, and more. As one season helps us to restore our creative practices, so does another season arouse our artistic endeavors and still another that stimulates us to action. We need all of the seasons to meet the goals we have set for ourselves. We hope you will use this book to inspire you with affirmations, prompt meditations, and/or as a creativity journal. "'Seasons of Balance' is an exquisite work of writing that encourages you to tap into your own creative crockpot and weave some beautiful webs of truth. Teague and Thornton each have unique, yet informal voices that make them feel real, approachable, and most importantly, relatable. You'll be scrambling for your pen as their thought-provoking stories and poetry carry you up and down the roller coaster of human emotions. Both artists have an obvious talent for prose, a well entwined style, and the uncanny ability to discuss seemingly mundane bits of everyday life, while revealing the true depth and magic under the surface. Seasons of Balance is an excellent resource for anyone looking to further explore the root of their creative being. The perfect ode to strength and femininity, with a solid splash of vulnerability thrown in for flavor."--STEPH GONGORA, author of The Beginner's Guide to Handstand
Thorncraft Publishing, 9780985794798, 162pp.
Publication Date: March 24, 2016