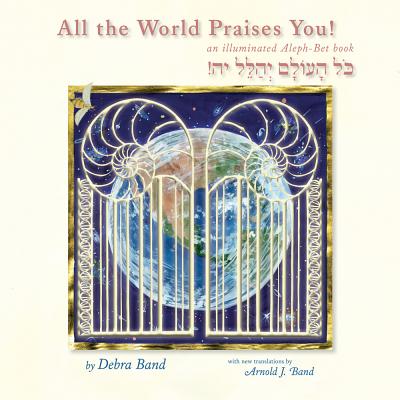 All the World Praises You (Hardcover)
an Illuminated Aleph-Bet Book
Honeybee in the Garden, 9780985799670, 32pp.
Publication Date: July 15, 2018
* Individual store prices may vary.
Description
This sparkling illuminated Jewish children's picture-book is inspired by the charming medieval Jewish work, Perek Shira (Chapter of Song). In All the World Praises You, wonders of the natural world exclaim biblical praises of God, offering hours of warm delight for young children and parents, and inspiration for older students, Bar/Bat Mitzvahs, and adults seeking fresh spirituality—a book to which adults and children will return throughout their lives. Loving spirituality, Jewish environmental ethics and the aleph-bet enchant the eye and refresh the soul. New translations and transliterations make the book delightfully accessible to all English readers, regardless of Hebrew skills.
About the Author
Debra Band is the author and illustrator of several books including, The Song of Songs: the Honeybee in the Garden, I Will Wake the Dawn: Illuminated Psalms, Arise! Arise! Deborah, Ruth and Hannah, and Kabbalat Shabbat: the Grand Unification. She lives in the Washington, D.C. area and lectures and exhibits across the USA.

Arnold J. Band is Professor Emeritus of Hebrew and Comparative Literature at UCLA and the author of many scholarly books and articles.
Praise For All the World Praises You: an Illuminated Aleph-Bet Book…
"The desire to teach the aleph-bet to young readers, a sense of environmental awareness, and enthusiasm for the tradition of illuminated manuscripts all culminated in her production of this attractive volume…her illustrations are graceful and dreamlike encounters with nature…" —Emily Schneider, reviewer, Jewish Book Council
"The painting are beautiful depictions of plants, animals, landscapes, and sky. Each has the scripture written in both English and Hebrew in calligraphy. Band includes additional information, like the scriptures reference and the background and symbolism in each painting. Like any good children's book, All the World Praises You can be enjoyed on many levels by children and adults alike." —Paul Mastin, https://readingglutton.blogspot.com/
"A grandparent and great-grandparent have made a visually stunning book for a beloved grandchild that passes down their deep Jewish roots. Symbolism dances across the page and this is a sweet and deeply personalized book." —Jesica DeHart, former book-buyer at BookPeople of Moscow in Idaho, now reviewer at
https://www.facebook.com/WanderingBookseller/
and on Instagram at
WanderingBookseller
or
Not Currently Available for Direct Purchase