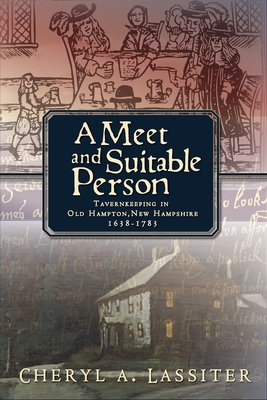 A Meet and Suitable Person (Paperback)
Tavernkeeping in Old Hampton, New Hampshire 1638-1783
Blue Petal Press, 9780985804725, 146pp.
Publication Date: August 20, 2013
* Individual store prices may vary.
Description
Blending historical fact with a sprinkling of well-crafted story-telling, A Meet and Suitable Person takes readers on a back door tour through the taverns of Puritan Hampton, depicting the lives of the seventeen men and six women who kept the town's public houses of entertainment during the colonial era. Here you'll read the humorous tale of the Newbury doctors' scandalous attempt to procure a couple of townswomen at the Tuck ordinary and about the witchcraft-plagued tavernkeeper and corrupt judge who sold his countrymen out for a hundred acres of land. Through sidetrips you'll discover other intriguing inhabitants, such as the much-maligned "witch" Eunice Cole, the turbulent, alcoholic lawyer Edward Colcord who once threatened to rip Eunice with a knife as she faced yet another trial for witchcraft, and the upright but feisty town clerk Henry Dow, who kept a diary of every drink he bought at the ordinary during a time when serving the locals was illegal. And you'll learn that long before the Revolution, Hampton was a hotbed of liberty-loving patriots who weren't afraid to throw a punch at a royalist or kidnap an insufferable Crown official to send him packing out of the Province. In an informative and entertaining style, Cheryl Lassiter shares her solid historical research to depict the history of taverns, their keepers, and some of the fascinating townspeople and events of Old Hampton.
About the Author
Cheryl lives in New Hampshire where she researches and writes about historical subjects. She is a newspaper columnist and blogger for the town historical society. She has published three books on the history of Hampton, New Hampshire. Her recently published book is a biography, The Mark of Goody Cole: a tragic and true tale of witchcraft persecution from the history of early America (Blue Petal Press, 2014). Puritan superstition confronts an indomitable will in this first-ever, comprehensive biography about Goodwife Unise Cole, the woman known as the Witch of Hampton. A Meet and Suitable Person: Tavernkeeping in Old Hampton, New Hampshire, 1638-1783 (Blue Petal Press, 2012) depicts the lives of seventeen men and six women who kept the town's public houses of entertainment during the colonial era. A Page Out of History: A Hampton Woman in the Needletrades, 1859-1869 (Blue Petal Press, 2011) is based on the personal papers of Hampton native Mary Anna Page Getchell (1832-1913) and the Page-Cole Family Papers at the Hampton Historical Society. It is the award-winning story of an educated but ordinary 19th century woman who led an extraordinary life as a milliner, dressmaker, and shop proprietor in Exeter, New Hampshire and Polo, Illinois, successfully managing her shops through the turbulent years of the Civil War and beyond. Under her imprint, Blue Petal Press, Cheryl has published Answering the Call, Hampton Men in the American Civil War by Eleanor A. Becotte (2013) and Marelli's Market, the First 100 Years in Hampton, New Hampshire, 1914-2014 by Karen Raynes and Marcia Hannon-Buber (2013).