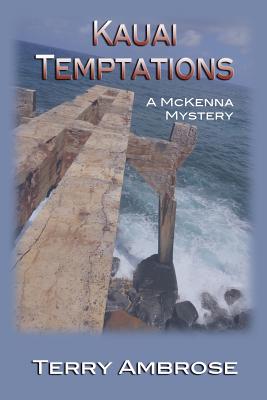 Kauai Temptations (Paperback)
A McKenna Mystery
Terrance Ambrose, 9780985954031, 276pp.
Publication Date: October 15, 2013
* Individual store prices may vary.
Description
Wilson McKenna has never written a bad check in his life. So how did he end up with $4,000 in returned checks from an island he's never been to? He knows one thing, make that two, the bank wants their money, and he's going to Kauai to track down the crook who's ruining his life. Before you can say "welcome to the island," he's almost arrested for impersonating himself, the woman who trashed his credit turns up dead, and McKenna feels like he's up to his umi'umi' in hot lava. McKenna quickly learns he'd better watch out because some temptations can get you killed.
About the Author
Terry Ambrose started out skip tracing and collecting money from deadbeats and quickly learned that liars come from all walks of life. He never actually stole a car, but sometimes hired big guys with tow trucks and a penchant for working in the dark when "negotiations" failed. A resident of Southern California, he loves spending time in Hawaii, especially on the Garden Island of Kauai, where he invents lies for others to read. His years of chasing deadbeats taught him many valuable life lessons including-always keep your car in the garage.
Praise For Kauai Temptations: A McKenna Mystery…
"Kauai Temptations is a fast-paced mystery with quirky characters and loads of island charm. Recipe for a great day at the beach: sunscreen, bamboo mat, mango shave ice, and Kauai Temptations in your beach bag!" — JoAnn Bassett, author of The Islands of Aloha Mystery Series