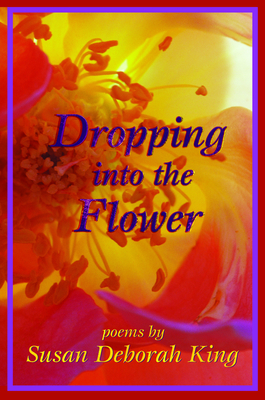 Dropping Into the Flower (Paperback)
Holy Cow Press, 9780985981815, 103pp.
Publication Date: September 3, 2013
* Individual store prices may vary.
Description
"King has an eye and ear at times reminiscent of William Carlos Williams, Elizabeth Bishop, Richard Wilbur, Amy Clampitt, Frost. 'Riveting': that's the word that summarizes this poet most accurately. She sees and feels things up close, in ways rare in American poetry these days. The eye on the object, and the rhythm of the experience, even if that object is humble as an earthworm."--Brendan Galvin
In Dropping into the Flower, her fifth full-length collection of poems, Susan Deborah King focuses in lush, sensual detail, on many varieties of flower, celebrating their qualities and allowing them to speak to her imagination. Close observation leads her, through the flowers, to explore love, mortality, ecology, myth, history, politics, healing, grief, and the transcendent.
In a voice suffused, by turns, with passion, vulnerability, confidence, wonder, playfulness, and insight, and in a style rich with rhythm and sound effects, she extends to the reader a generous bouquet, vibrant and fragrant with immediacy of being.
From "Flowers that are Truly Orange are Relatively Few":
If I had only one day, I'd want to burst as they do: peeled out, with feelers, bold as leaping cossackstrumpeting over green -starfires, with petals softas the cheeks of a child.
Her work having appeared widely in nationally recognized journals, Susan Deborah King is the author of four other poetry collections, including One-Breasted Woman and Tabernacle: Poems of an Island. She teaches creative writing and leads retreats on creativity and spirituality.
About the Author
Susan Deborah King teaches writing and leads retreats on spirituality and creativity. Her last poetry book was Coven (2006). She lives in Minneapolis and on an island in Maine with her husband, and is mother to grown twin daughters.