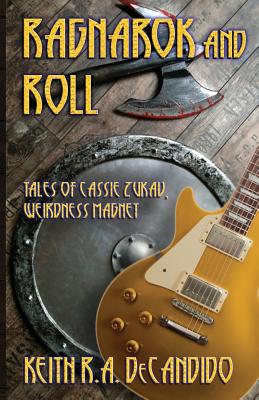 Ragnarok and Roll
Tales of Cassie Zukav, Weirdness Magnet
Paperback

* Individual store prices may vary.
Description
Cassie Zukav has always been a bit of a weirdness magnet. Strange things always happened to her, even before she came to Key West for vacation and never left. She's dealt with sea monsters and nixies and dragons, and shares her room with the ghost of an old wrecker captain, whom only she can see and hear. Now she spends her days leading scuba diving jaunts and her nights at Mayor Fred's Saloon watching the house band, 1812, rock the joint. But when 1812 takes a break, they're replaced by Jotunheim, a band everyone but Cassie loves. Their lead singer is Loki, the Norse trickster god, who is trying to bring about Ragnarok-the end of all that is. Cassie learns that she's a Dis, a fate goddess, from Odin himself, the Allfather of the Norse gods. She's the only one who can stop Loki from destroying the world. And then things get really weird... Here are eight stories of Cassie's adventures in Key West, from her encounter with a rock and roll star who's not what (or who) he seems, to stopping a water elemental from killing one of her friends (by marrying her), to the ghosts on the island all becoming active (and destructive), to a surprise appearance on the island by Thor, the thunderer. Plus, as an added bonus, the first-ever Cassie story, back in print A new collection by USA Today best-selling, award-winning author Keith R.A. DeCandido.
Plus One Press, 9780986008566, 260pp.
Publication Date: August 15, 2013