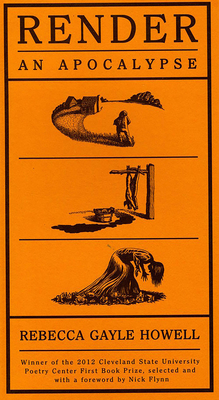 Render / An Apocalypse (Cleveland State University Poetry Center New Poetry) (Paperback)
Cleveland State University Poetry Center, 9780986025730, 88pp.
Publication Date: March 6, 2013
* Individual store prices may vary.
Description
Poetry. "To enter into these poems one must be fully committed, as the poet is, to seeing this world as it is, to staying with it, moment by moment, day by day. Yet these poems hold a dark promise: this is how you can do it, but you must be fully engaged, which means you must be fully awake, you must wake up inside it. As we proceed, the how-to of the beginning poems subtly transform, as the animals (or, more specifically, the livestock) we are engaging begin to, more and more, become part of us, literally and figuratively we enter inside of that which we devour." Nick Flynn

"This is the book you want with you in the cellar when the tornado is upstairs taking your house and your farm. It's the book you want in the bomb shelter, and in the stalled car, in the kitchen waiting for the kids to come home, in the library when the library books are burned. Its instructions are clear and urgent. Rebecca Gayle Howell has pressed her face to the face of the actual animal world. She remembers everything we have forgotten. Read this It's not too late. We can start over from right here and right now." Marie Howe

"In every one of these haunting and hungry poems, Howell draws a map for how to enter the heat and dew of the human being, naked and facing the natural world, desperate to feel. I did not realize while reading RENDER how deeply I was handing everything over." Nikky Finney.
Praise For Render / An Apocalypse (Cleveland State University Poetry Center New Poetry)…
"To enter into these poems one must be fully committed, as the poet is, to seeing this world as it is, to staying with it, moment by moment, day by day. Yet these poems hold a dark promise: this is how you can do it, but you must be fully engaged, which means you must be fully awake, you must wake up inside it. As we proceed, the how-to of the beginning poems subtly transform, as the animals (or, more specifically, the livestock) we are engaging begin to, more and more, become part of us, literally and figuratively we enter inside of that which we devour." --Nick Flynn



"This is the book you want with you in the cellar when the tornado is upstairs taking your house and your farm. It's the book you want in the bomb shelter, and in the stalled car, in the kitchen waiting for the kids to come home, in the library when the library books are burned. Its instructions are clear and urgent. Rebecca Gayle Howell has pressed her face to the face of the actual animal world. She remembers everything we have forgotten. Read this! It's not too late. We can start over from right here and right now." --Marie Howe



"In every one of these haunting and hungry poems, Howell draws a map for how to enter the heat and dew of the human being, naked and facing the natural world, desperate to feel. I did not realize while reading Render how deeply I was handing everything over." --Nikky Finney