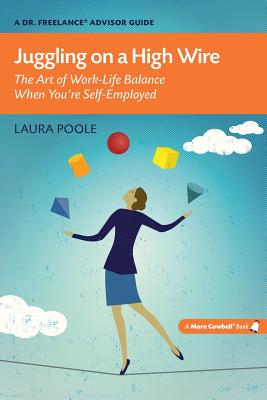 Juggling on a High Wire
The Art of Work-Life Balance When You're Self-Employed
Paperback

* Individual store prices may vary.
Description
"If I'm working 'when I want to, ' how come it seems like I'm working all the time? " If you've ever thought these words in your freelance or self-employment career, you're not alone. Work-life balance can be difficult to create and maintain-especially when you're the boss and the only one doing the work. In Juggling on a High Wire, author Laura Poole reveals the key ideas in defining and envisioning life balance, as well as easy-to-implement strategies for creating it. Forget about "having it all"-it's time to focus on what you want and need in your life and how you want to live it Inside you'll learn:
The tools you need to develop a vision for the kind of life you've been dreaming about
Task-management tips and tricks for being amazingly effective with your time
Options and choices for managing non-work issues such as parenting, personal needs, and more
How to cope with those times when you're overworked-and what to do when you hit a business lull
Whether you're just starting out in self employment or have been at it for years, Juggling on a High Wire will help you gain the balance you've been looking for.
More Cowbell Books, LLC, 9780986053825, 98pp.
Publication Date: September 14, 2015