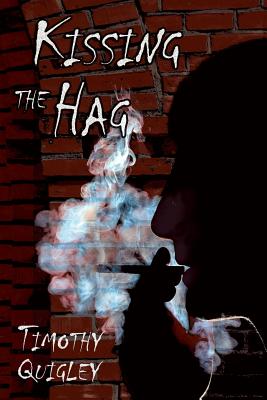 Kissing the Hag (Paperback)
Pixel Hall Press, 9780986064906, 144pp.
Publication Date: November 23, 2015
* Individual store prices may vary.
Description
"'Kissing The Hag' is a dark night of the soul, a harrowing trip into the battered heart of the narrator.... Mr. Quigley... brings us through this night, and into the day...with grace, where new life and forgiveness abide." Bret Lott, author of "Jewel" (an Oprah pick) Since the suicide of his younger brother, Julien has burrowed away from life, turning his back on family and friends. His only human contacts are the denizens of a downtown Boston homeless shelter where he works the graveyard shift. One in particular - Rosie, an Irish "hag" - helps guide Julien through a particularly dark night, as he traverses the dim caverns and blind curves of the human spirit. The single night is filled with flashbacks, interactions with shelter transients, and Irish storytelling, that Julien hopes against hope might help him find some kind of resolution and purpose. Timothy Quigley deftly interweaves Celtic mythology, Christian dogma, street smarts, New Age drunk talk and mad men's ravings, to create a deeply compassionate portrait of a jaded, disillusioned man's struggle to get his life back on track. Timothy Quigley's award-winning stories have appeared in The Chariton Review, Line Zero Journal of Art and Literature, La Ostra Magazine, Writer's World, as well as various online publications. He is also the screenwriter of two short films; one animated, and the other a live action adapted from one of his short stories. He is currently working on a feature-length film adaptation of Kissing the Hag, as well as a collection of short stories. Quigley received his MFA in Writing from Vermont College of Norwich University, and currently teaches writing and literature at Salem State University and Wentworth Institute in Boston. " Timothy Quigley's fiction]... is wonderful... buoyant and lively and crackling with fascinating energies and tensions." Dr. James D'Agostino, author of "Nude with Anything" and Editor of "The Chariton Review.