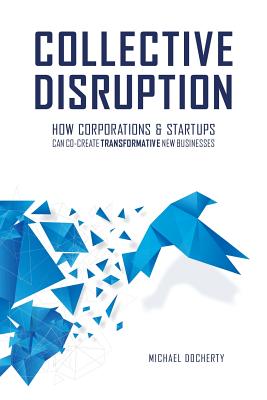 Collective Disruption (Paperback)
How Corporations & Startups Can Co-Create Transformative New Businesses
Polarity Press, 9780986079542, 200pp.
Publication Date: April 11, 2016
* Individual store prices may vary.
Description
DISRUPTION IS THE NEW MANDATE for big companies. Too often, disruption is a bad word something you don't see coming. It doesn't have to be that way. This book is about changing that paradigm and learning to embrace disruption through collaboration. Whether you're an executive trying to drive growth in a change-resistant organization or an entrepreneur with a big idea and looking for corporate partnerships, this book is for you. Collective Disruption provides a road map and framework for co-creating new businesses. Read it and you'll learn how to: Build and leverage an innovation network as a pipeline for new sources of growth Bring entrepreneurial and lean methods into the corporate context with a balanced approach that works Discover, define, incubate, and integrate new sources of growth with a new mindset of co-creation Apply new incubation models that others are using successfully, including leveraging accelerators and on-demand entrepreneurs Large corporations need new sources of growth, but struggle to embrace entrepreneurial, high-risk opportunities. Many startups excel at using speed and agility to incubate breakthrough ideas, but lack access to brands and distribution for scale. Large companies and startups can help each other. They can collaborate earlier and more deeply in creating and scaling transformative innovation and new business opportunities. Collective Disruption makes the case for corporations and startups to partner in new ways to co-create new businesses. Docherty has lived in both of these worlds and draws on decades of experience as well as interviews and case studies from scores of leading companies and successful startups applying these principles today. Collective Disruption provides insights and tools to help you embrace more fluid cross-company collaboration that can deliver significant growth.
About the Author
Michael Docherty brings unique perspective to this book, having been an entrepreneur, senior corporate executive, and venture capitalist. He's passionate about the intersection of corporate innovation and entrepreneurship. As CEO of Venture2, a consulting and new ventures firm, he works with leading brand companies and startups to build innovation ecosystems and commercialize breakthrough new products and businesses. Corporate clients include Unilever, Merck, Pfizer, Cisco, Jarden, and other leading companies. He has managed venture-backed startups, including a mobile technology innovation network, and was also president of Spencer Trask, a venture investment firm that backed leading collaborative innovation platforms including InnoCentive, inno360, and others. Earlier in his career, Docherty was VP of new products for Sunbeam Appliances (now Jarden) and then VP/GM of Sunbeam Health, during the successful turnaround of the company. Prior to that, he held marketing and technology leadership positions with Ford Motor Company and General Electric. Docherty holds an MBA degree from Northwestern University's Kellogg School of Management and a BSME degree from Drexel University. He is a highly rated speaker on innovation and corporate venturing and an active supporter of the entrepreneurial community.