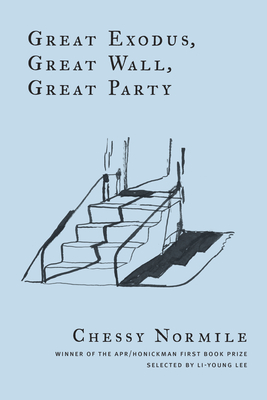 Great Exodus, Great Wall, Great Party
Paperback

* Individual store prices may vary.
Description
Winner of the 2020 APR/Honickman First Book Prize, Chessy Normile's debut collection, Great Exodus, Great Wall, Great Party, asks what would happen if we actually believed language to be a creative force that constructs our lived experience. Though "hope" is something we assign to the future, these poems disrupt the very notion of time in order to be hopeful about the past, and the present. They could be funny all the time, but often choose not to be in the critical moment, using humor to become more vulnerable rather than less. Chessy Normile's poetry is, according to Li-Young Lee, "smart, curious, original, and authentically weird.
Copper Canyon Press, 9780986093821, 96pp.
Publication Date: September 8, 2020