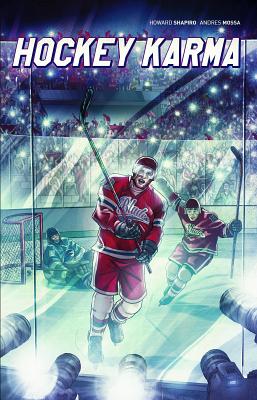 Hockey Karma (Forever Friends #3) (Paperback)
Animal Media Group LLC, 9780986148934, 160pp.
Publication Date: November 1, 2016
* Individual store prices may vary.
Description
The highly anticipated sequel to the award winning "The Hockey Saint" taking place ten years after "Saint" ends. The legendary Jeremiah "Jake" Jacobson, now thirty two, has been the world's best hockey player over his fourteen year career because of his out of this world talent and his smart play. But he can't stay on top forever, and when he starts making mistakes on the ice, his career and family life start to crumble.
At the same time, Tom Leonard, his agent and best friend, is completely overwhelmed by a project that he and Jake were supposed to be working on together. A project that could have a huge impact on people throughout their city in need of a helping hand. As Jake sinks deeper into a funk over his lost status due to his deteriorating play and the emergence of teammate and rookie phenom Barclay Pedersen, Tom realizes he's on his own. At the same time he rediscovers someone from his past who he never thought he'd see again. In that burgeoning relationship, Tom discovers the importance of taking chances and starts to believe in himself. Can Jake break out of his downward spiral and Tom finally find the courage to step out of Jake's shadow?
About the Author
Howard Shapiro: Howard Shapiro has written four children's books, two graphic novels and a biography. He lives in Pittsburgh, PA where he runs the day-to-day publishing side of Animal Media Group LLC bringing ten years of indie publishing experience to the role. Andres Mossa: Andres J. Mossa was born in Venezuela and his family moved to Italy when he was 10 years old. He earned a degree in Painting from the Accademia di Belle Arti of Bari where he graduated summa cum laude. He is the official colorist of Deadpool and Avengers World as well as Star Wars and Inhumans.