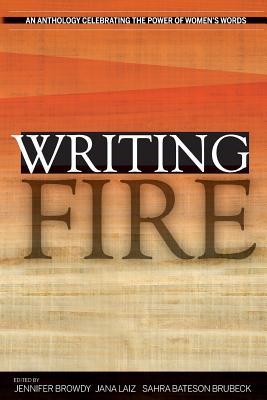 Writing Fire
An Anthology Celebrating the Power of Women's Words
Paperback

* Individual store prices may vary.
Other Editions of This Title:
Paperback (9/12/2017)
Paperback (3/29/2015)
Paperback (3/11/2015)
Description
WRITING FIRE features powerful writing by more than 75 women of all ages and from many walks of life, most of them local to the Berkshire region. Including fiction, poetry, personal narrative, essays and humor, Writing Fire offers an intimate window into the strengths, passions and perspectives inspiring and unforgettable women writers.
Green Fire Press, 9780986198076, 374pp.
Publication Date: September 2, 2017
About the Author
Jennifer Browdy, Ph.D., is Associate Professor of Comparative Literature and Media Studies at Bard College at Simon's Rock and has edited two anthologies of contemporary women's writing from Africa, Latin America and the Caribbean. The Founding Director of the Berkshire Festival of Women Writers, she blogs on social and environmental justice from a personal perspective at Transition Times. Her memoir, What I Forgot...And Why I Remembered, and The Elemental Journey of Purposeful Memoir: A Writer's Companion. _____________ Jana Laiz is the award-winning author of Weeping Under This Same Moon, The Twelfth Stone, A Free Woman On God's Earth, Elephants of the Tsunami, Billy Budd in the Breadbox, Simon Says: Tails Told By The Red Lion Inn Ambassador, and Thomas & Autumn. She is the first Writer-In-Residence at Herman Melville's Berkshire home, Arrowhead. She teaches writing workshops locally, nationally and internationally, including the 2014 San Miguel Writer's Conference. Find her at
 janalaiz.com. _____________ Sahra Bateson Brubeck earned her B.A. from Bard College at Simon's Rock in 2014, majoring in Creative Writing with a minor in African American Studies. Her most recent creative work focuses mainly on the tradition of retelling and rewriting ancient myths. She strives to shed light on the convoluted histories and stories of ancient Greek Goddesses, often rearranging and repositioning the interpersonal dynamics that originally comprised the ancient myths, in an effort to add depth to the stories' notions of power and femininity.