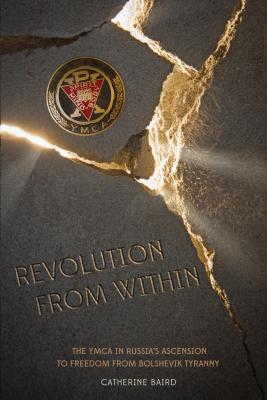 Revolution from Within
Paperback

* Individual store prices may vary.
Description
REVOLUTION FROM WITHIN is the story of determination, unlikely partnerships, and concepts that are increasingly relevant worldwide. Freedom, creativity and compassion sit at the heart of this book as the author ties the events from more than a century ago back to parallels occurring today.
Praise For Revolution from Within…
"When 160 of Russia's most promising intellectuals were exiled, YMCA Director Dr. John Mott and the YMCA Press supported their continuing development of ideas and philosophy. From the Bolshevik Revolution to the fall of the Soviet Union, 'Revolution from Within' tells a true story of intrigue, politics, religion, and uncertainty. A committed group of Y professionals risked their lives and livelihoods to preserve Russian culture, ideas, faith, and beliefs. In doing so, they provided relief, morale, hope, and encouragement to Russians who remained in the U.S.S.R. and to two million emigres throughout Europe." -- Kristen Obaranec, YMCA of Metropolitan Atlanta.

"I was intrigued to find out about these ideas on Russian spiritual philosophy, and the individuals--The 160--and how they were influenced by YMCA. Overall, this is an astounding and little-known story about a remarkable moment in time--about two or three years in the early 20s when an extraordinary conflux of historical events, outstanding individuals, and big ideas came together to help lay the groundwork for one of the greatest historical events of the 20th century--the fall of Communism." -- Beth Haddon, Journalist and Former Broadcast Executive, CBC.

"While I have always been keenly interested in Russian history, along with the demise of the Soviet Union, until I read this work I was completely unaware of the integral and vital part played by the YMCA in this quest for freedom or of the power and reach of the YMCA Press. I had no idea that the YMCA played such a pivotal role in Russia and other nations with respect to political transformation." -- Lisa Moore, The Moore Firm.
BookLogix, 9780986219900, 379pp.
Publication Date: April 28, 2015
or
Not Currently Available for Direct Purchase