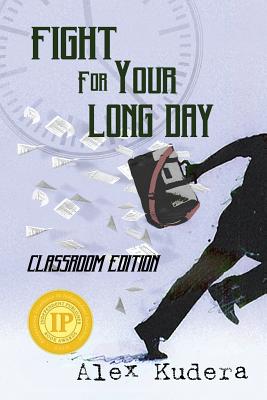 Fight For Your Long Day
Classroom Edition
Paperback

* Individual store prices may vary.
Other Editions of This Title:
Paperback (10/1/2010)
Description
In a polarized post-9/11 America, Cyrus Duffleman, adjunct anti-hero of the 21st century, bobs and weaves through five jobs at four universities in one day. Comedy and tragedy interweave as Duffleman braces for the challenges more and more American workers face in the new "gig" economy. If you care about the future of higher education, our students and teachers, this is the novel you need to read now.
This classroom edition includes bonus essays, interviews and graphics about adjunct survival and the state of so-called "higher" education. Alex Kudera's award-winning Fight for Your Long Day puts college realities on the map.
"It took nearly 40 years before anyone wrote a novel told consistently from the perspective of an adjunct, and Alex Kudera's Fight for Your Long Day is an excellent tome. The world needs his voice." Emily Toth, (Ms. Mentor), the Chronicle of Higher Education
"The depiction of academic life had me both laughing and cringing at its accuracy. As in the best comic fiction, there is poignant undercurrent of seriousness in this novel. Kudera is the real deal." --Ron Rash, author of One Foot in Eden, John Parris, Chair in Appalachian Studies, Western Carolina University.
Hard Ball Press, 9780986240089, 368pp.
Publication Date: March 15, 2016