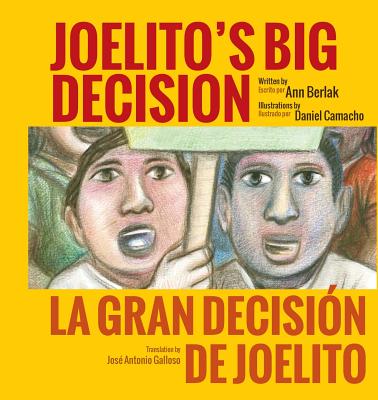 Joelito's Big Decision/La Gran Decision de Joelito
Paperback

* Individual store prices may vary.
Description
Joelito tells the story of ten-year old Joelito, who learns about the struggle for economic justice as he heads toward the door of MacMann's Burger Restaurant for his regular Friday-night family dinner. When he finds his best friend standing outside MacMann's with his parents protesting for higher wages, Joelito has to choose between a juicy burger and standing with his friend.
Joelito's Big Decision was created for children who want to understand their social world, for teachers who want to engage their students in lively discussions about social justice, and for parents, grandparents, librarians, booksellers and others who want children to inhabit a more just and joyful future. The book is published by Hardball Press, a small, independent publisher dedicated to promoting social justice.
Hard Ball Press, 9780986240096, 50pp.
Publication Date: September 1, 2015