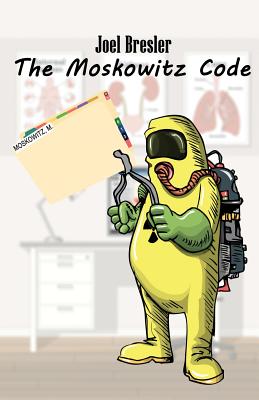 The Moskowitz Code (Paperback)
Tasfil Publications, LLC, 9780986258046, 310pp.
Publication Date: August 1, 2017
* Individual store prices may vary.
Description
Myron Moskowitz is a pretty uneventful guy. He has an uneventful job, an uneventful wife and a still more uneventful marriage. Myron Moskowitz's life is so devoid of anything even remotely eventful it is not inconceivable that, if one day he just ceased to exist, he probably would not even notice.
Or would he? Myron - Mike, to everyone in the world except his mother, Celia - is about to find out.
Succumbing to both whatever bug has been going around lately and Celia's insistence that he see the doctor, Mike pays a visit to his long-time GP. After rattling off a list of his symptoms and being told, "It's going around," Mike's doctor, pecking away at a desk-borne computer, begins to enter his patient's diagnostic code. But a split second's distraction from the keyboard results in what should have suggested a garden-variety strain of flu instead entering Mike's permanent, electronic medical record as something infinitely more exotic - and frighteningly more sinister.
With that single, errant keystroke, Mike's uneventful life is suddenly launched on a trajectory toward becoming a very eventful life, indeed.
The mistake might never have come to light had Mike not, also at Celia's insistence, applied for a life insurance policy. His application with The Itinerant Life & Casualty Company is turned down on the grounds that, by all accounts, he should have already experienced his own particularly unpleasant demise before the ink on his paperwork had been given a chance to dry. Figuratively speaking, of course, since nobody uses actual paper anymore. Or ink either, for that matter.
A small group of techie-types at The Itinerant who, unlike some of their more jaded colleagues, could recognize an obvious typo when they saw one, attempt to help Mike out of his difficulty by deleting the troublesome medical code from his file. What they somehow manage to do instead is delete Mike - any and all trace of him - from every computer in the known universe.
This is not, however, before his employer's health plan administrator discovers that the cost of Mike's alleged malady would quickly wipe out their client's entire corporate healthcare fund. Thus alerted, the Head Human Resources Honcho at Mike's company averts disaster by forcing him kicking and screaming into a way-too-early retirement.
Mike now has to find a way to get back on the grid and get his old job back. All without his wife finding about any of it.
He is aided, if you could call it that, By Celia. A devoted Jewish mother, she only wants what's best for her son, even if he should have been a doctor and not married that shiksa wife of his. Other than not spilling the beans in spite of her better judgment and nearly costing Mike the continued goodwill of the United States Postal Service, though, Celia really isn't much of a help.
Fortunately, the techie-types from The Itinerant Life & Casualty Company are still on the case; and one of them has come up with an eleventh-hour plan he believes might actually work, this time...
But hey, at least Mike's got his health.