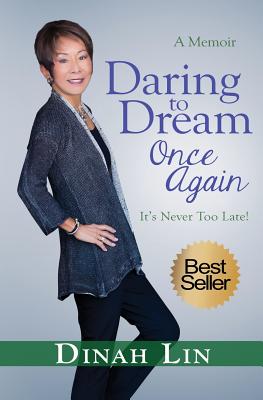 Daring to Dream Once Again
It's Never Too Late!
Paperback

* Individual store prices may vary.
Description
An Inspirational Memoir of Courage, Perseverance, and Dreaming the Impossible Dream
Dinah Lin is living proof it's never too late for anyone to follow their dream. Along with her mom and two siblings, escaped to America on the last boat out of Shanghai in 1949 during the heat of the communist revolution.
Growing up in the only Asian family in a small Ohio town had its challenges. After making it through one culture transition she found herself, as an adult, back in Asia for 15 years raising two young children. How did she make the transition from housewife and social hostess to the senior executive levels in both corporate America and Washington, D.C., then leave everything behind to move to Beijing for a decade?
As she entered her 70's Dinah was on the verge of giving up her lifelong dream of writing a book about her life to inspire others. Her dream of becoming an author had sat on the back burner for decades as she lived a busy life.
In Daring to Dream Once Again Dinah shares her stories and life lessons with candor, wisdom, and insight. You'll be inspired to look for opportunities within your own challenges and crises and how to gain the courage to listen to the wisdom of your heart.
As you read her fascinating story of determination and perseverance, you will be reminded to reach for your dreams and to know, it's never too late
Click 'Look Inside' to start reading today. Available in Kindle, paperback, and audiobook.
Transformation Books, 9780986290145, 208pp.
Publication Date: July 13, 2015
About the Author
At age 73, Dinah Lin is living proof that it's never too late-to follow your dream. She is beginning yet another new stage in her life, this time as an author and speaker. At age 58 she followed a dream and moved to Beijing to study Chinese and re-connect with her roots. Prior to Beijing Dinah had spent over 25 years in the corporate world, as a senior executive in high-tech start-ups and Fortune 500 companies as well as three and one-half years as a senior political appointee in the George H.W. Bush administration in Washington, D.C. You can contact her at www.thedinahlin.com