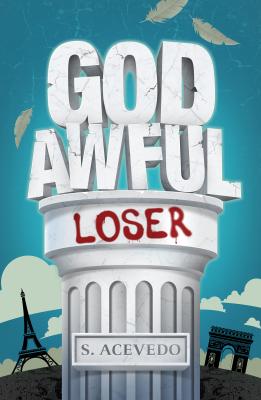 God Awful Loser
Hardcover

* Individual store prices may vary.
Description
Life's good at the top.
Until you re not.

The son of the God of War has it all, and the smooth-talking, jet-setting master knows it. The once chubby cherub now has adoring fans, a shiny red limousine, and a mansion nearly, almost, not quite big enough to hold his enormous and ever-growing ego.

But everything changes for the sloppy, ill-aiming love god when a meddling stranger challenges him for his crown. Not even the advice of his war-mongering father, Mars, and embarrassingly underdressed mother, Venus, can save Cupid from the skids. Facing enraged immortals, epic battles against hell's most vile creatures, and the dread of becoming mortal himself, Cupid teams up with an unlikely band of misfit fallen angels in the hopes of saving himself, the Olympic kingdom, and humans the world over. But can such an inept team of losers finally win when it counts?

Funny, rude, and planted smack in modern times, God Awful Loser is a new chapter on the ancient gods' bad and hugely entertaining choices. May we never follow in their footsteps.
Praise For God Awful Loser…
"funny moments and attention-grabbing action scenes… this book might appeal to older fans of the Rick Riordan books or those interested in Roman mythology. VERDICT for larger libraries with high demand for mythological fiction."
-School Library Journal

"I finished reading the ebook version of this yesterday. IT WAS SO GOOD!!!!!!!!!!!!!!!!!!!!!!!! I literally read it in 6 hours and would have finished sooner but was at work for the first part of it. When i started reading it he was a pompous ass but finished at a really great point and I can't believe (***deleted spoiler here****). So great and I really hope this is a series and not just a stand alone book. Would love to read more books about Mars Jr. SO AWESOME!!!!!!!!!!"
- Daniel S. (Texas)

"With all the trappings of a Greek tragedy, Cupid's fatal flaw, arrogance, leads to his fall from idolized god of love to homeless street person. Each time things can get no worse, they do. Can Cupid gather a ragtag army to regain his powers and usurp the pretender to his throne? His efforts to overcome powers arrayed against him, not to mention his own frailties, make for compelling reading. Don't miss his ally Tamara as she journeys to Hades on his behalf.
Adventure spiced with wry humor makes this a great read."
- Keith P. (Wisconsin)
Three Points Publishing, 9780986320705, 360pp.
Publication Date: May 1, 2015
or
Not Currently Available for Direct Purchase