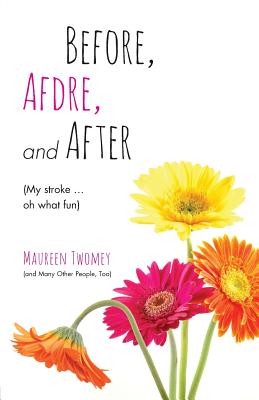 Before, Afdre, and After (My stroke . . . oh what fun)
Paperback

* Individual store prices may vary.
Description
When Maureen Twomey was only thirty-three years old, she experienced a massive stroke-one that took away her ability to read, write, walk, and even speak. But she wasn't about to go down without a fight. In Before, Afdre and After, Twomey offers a sometimes heartbreaking, sometimes comical, and ultimately inspiring glimpse at what it is to lose everything when you're supposed to be in the prime of your life-and what it takes to get it back, piece by tiny piece.
Praise For Before, Afdre, and After (My stroke . . . oh what fun)…
"Maureen Twomey breaks conventions to give us a glimpse into the before, during, and after her stroke at the age of thirty-three. At turns funny, harrowing, and bittersweet, Twomey's self-aware and unpretentious writing disarms you and quietly makes you her biggest cheerleader. A revelation and a major accomplishment."
--Laura Diamond, author of Shelter Us and editor of Deliver Me: True Confessions of Motherhood


"The nurse's note read: 'Standing by chair. Standing by sink.' To most of us, these are not accomplishments. To a person recovering from a stroke, they are miracles. For one author, so was writing the sentence, 'I sit.' Or learning to speak again. But fortunately for us, Maureen learned to write again. She brought back this moving book."
--Luke Sullivan, author of Hey, Whipple, Squeeze This and Thirty Rooms To Hide In
Writer, 9780986331503, 316pp.
Publication Date: March 16, 2015