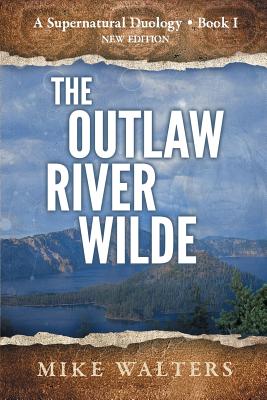 The Outlaw River Wilde (Supernatural Duology #1)
Paperback

* Individual store prices may vary.
Description
"What would you do if spooky things started happening in YOUR community?" Gloria Antypowich

Who of us, at one time or another, hasn't wondered if we are alone in the universe? Mitch Wilde never had until a failed attempt at pulling an arrow out of his best friend Jack's shoulder began a string of strange and unexpected events in the small Pacific Northwest Town of Outlaw River.

Mitch is challenged in ways he never dreamed when Native Americans start vanishing throughout the region and re-appearing in strange places on horseback. In addition, who are the uninvited strangers ransacking some of their homes? Added to this, Jack has taken to odd nocturnal treks. Jasper, an eccentric neighbor, is making Mitch question long held beliefs. The local sheriff releases hostility he has held against Mitch since high school and something--nobody wants to call them UFOs--has just crashed into several surrounding lakes.

Can Mitch keep himself out of jail, figure out what the strange entities emerging from the lake are, and protect the beautiful life he and his wife Mabey worked so hard to create? Finally, can Mitch help his eccentric neighbor save the residents of Outlaw River before it's too late?

"The Outlaw River Wilde is a deftly crafted and highly entertaining story by an author who will leave his readers looking eagerly toward his next effort in this series." James Cox - Midwest Review

"Well imagined, visualistic sci-fi " - ENAS Reviews

"This wild adventure will drive you crazy as you try to put the pieces together. You just want to know what in name of God is going on Great character development, likable characters to boot, and a mystery that just yearns to be solved." Rebecca Skane - Portsmouth Review

"Mike Walters debut novel, The Outlaw River Wilde, will keep readers who enjoy a story with an eschatological bent highly amused." - Red City Review
Mike Walters, 9780986357404, 316pp.
Publication Date: March 24, 2015
or
Not Currently Available for Direct Purchase