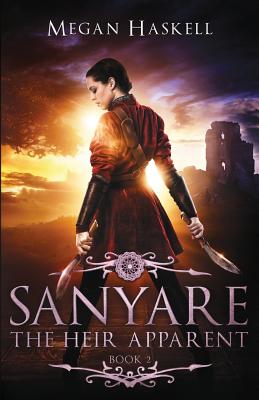 Sanyare
The Heir Apparent
Paperback

* Individual store prices may vary.
Other Editions of This Title:
Paperback (5/6/2015)
Paperback (8/1/2018)
Paperback (6/4/2017)
Description
Her secret is unraveling. One dangerous quest could end it all...


Rie thought she was an ordinary human. After she's named heir to Sanyaro, the truthseeker and mediator of all nine realms, life becomes a lot more complicated. As she struggles to control her magics, Rie nearly falls prey to a brutal assassination attempt during a public ceremony.
Blamed for the chaos, Rie's escort, Prince Daenor, is taken prisoner. While Sanyaro tempers the political flames, Rie must once again chase after the truth. As if the threat of another great war and the impending death of her lover weren't enough, Rie uncovers a dark secret that threatens to crack the very foundations of the faerie realms. When allies fall, can Rie overcome the odds... and the opposition?


Sanyare: The Heir Apparent is a captivating dark fantasy adventure novel. If you enjoy thrilling adventures across nine unique realms filled with wise-cracking carnivorous pixies, then you'll love the second installment of The Sanyare Chronicles from Megan Haskell.
Trabuco Ridge Press, 9780986408342, 356pp.
Publication Date: September 6, 2016
About the Author
Legend has it, I was born with a book in my hands. When I was a kid, my mom would ground me from reading in order to get me to do my chores. To this day, I can readily ignore the real world in favor of the imaginary one lurking between the pages of my current addiction. My dad - also an avid reader - introduced me to Tolkien in my late elementary years, and I never looked back. I love escaping to worlds where magic and monsters are real, especially stories with kick-butt heroines and dangerously attractive heroes. 
Despite my voracious book appetite, I didn't start creative writing until I was working as a number cruncher in a big accounting firm. With an hour plus commute by train every day, and a demanding left-brain occupation, I needed a mobile creative outlet. A pen and paper are about as mobile as it gets! As the pages began to fill, I quickly moved onto a tiny laptop, and a writer was born. Now I get to create my own fantasies! 
In addition to writing fiction, I am also the Program Director for O.C. Writers, A Network of Published and Aspiring Authors. Visit www.OCWriters.Network for more information about the community. 
I currently live in Southern California with my wonderfully supportive husband, two daughters, and a ridiculously energetic dog.