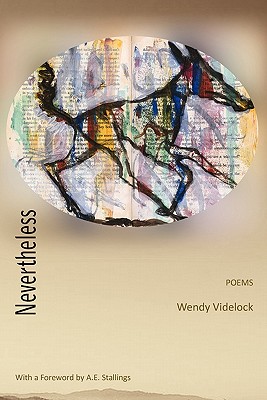 Nevertheless (Paperback)
Able Muse Press, 9780986533846, 122pp.
Publication Date: May 2, 2011
* Individual store prices may vary.
Description
Nevertheless is the acclaimed first full-length poetry collection from American poet, Wendy Videlock. These are highly original poems written in Videlock's unique style and inimitable voice. They cover the gamut from fun, quirky, witty, to wise, in the backdrop of the slopes of the American West, through the gradients of human experience.
PRAISE FOR NEVERTHELESS:
Mother Goose jacked up on something barely legal? No, it's Wendy Videlock, bewitching poet of the West, sister to those who have "failed to walk on water." There is a formal zing to these poems of anarchy and grace. Videlock reminds us that serious poetry can be fun to read. Somehow, too, she has smuggled in a bag of wisdom.
- David Mason
Videlock is a magician of play and pleasures, wisdom being not the least of these.
- A.E. Stallings (from the "Foreword")
"Don't ask directions of me, my friend," concludes one of Wendy Videlock's poems. As a dweller of the slopes, she knows that there are only two real directions--up and down. In one lies the realm of myth--ancient, untouched, pure. In the other reside chronicles of daily life that too often substitute for poetry. On the slopes, we encounter the confluence of quotidian and ideal that constitutes true poetry. Even a witty crowd-pleaser like "What Humans Do" doesn't allow itself to slip to the level of sheer mechanics; it ends with as much transcendence as any of us are likely to know. Nevertheless is a first collection to be reckoned with.
- R.S. Gwynn
Wendy Videlock is a shapeshifter. Hers is a delicate gift to die for. Read this book.
- Timothy Murphy
ABOUT THE AUTHOR:
Wendy Videlock was born in a raft in the middle of the Atlantic Ocean. She drifted many a year, and now lives on the Western Slope of the Colorado Rockies with her husband, two children, and their domesticated coyote. In recent years her work has appeared widely, most notably and most regularly in Poetry.