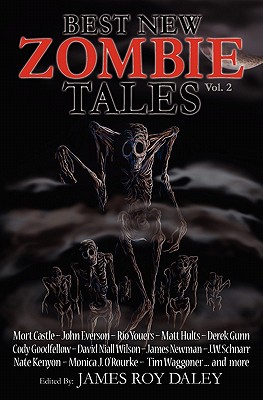 Best New Zombie Tales (Vol. 2) (Paperback)
Books of the Dead, 9780986566417, 338pp.
Publication Date: August 1, 2010
* Individual store prices may vary.
Description
Want the Greatest Zombie Stories Ever Written?
BEST NEW ZOMBIE TALES (Vol. 2)
Over 100,000 words
Includes Amazing Fiction by:

Bram Stoker Award Winner, David Niall Wilson
British Fantasy Award Nominee, Rio Youers
Bram Stoker Award Nominee, Nate Kenyon
Multiple Award Winning Author, Cody Goodfellow
Authorlink New Author Award Winner, Tim Waggoner
George Turner Prize Nominee, Narrelle M. Harris
Bram Stoker Award Winner, John Everson
Pulitzer Prize, Bram Stoker Nominee, Mort Castle
And so much more...

"I'm proud to be a part of the Best New Zombie Tales series."
World Horror Grand Master, Multiple Award Winning Horror Legend, Ray Garton

James Roy Daley is doing a marvelous job with his Best New Zombie Tales series-- TERRIFIC Bloody well done "
New York Times bestseller Jonathan Maberry, author of PATIENT ZERO and ROT & RUIN

TOC:

Sleepwalk: The Deduction ROBERT ELROD
Introduction JAMES ROY DALEY
Bury Me Not RIO YOUERS
Laundry Day STEVEN A. ROMAN
Provider TIM WAGGONER
The Truth About Brains NARRELLE M. HARRIS
Gravedigger NATE KENYON
Coming Home DAVID NIALL WILSON
The Third Option DEREK GUNN
The Worst Is Yet To Come PETE MESLING
La Sequia T. F. DAVENPORT
Viva Las Vegas THOMAS ROCHE
Til Decay Do Us Part MYRRYM DAVIS
We Will Rebuild CODY GOODFELLOW
Dredging Up The Dead J. W. SCHNARR
Camille Smiled JOHN EVERSON
Not With A Bang But A Whimper MONICA J. O ROURKE
Reunion JAMES NEWMAN
Gran ma's in the Bathroom ( and she's not coming out) KEN GOLDMAN
The Old Man And The Dead MORT CASTLE
The Finger MATT HULTS