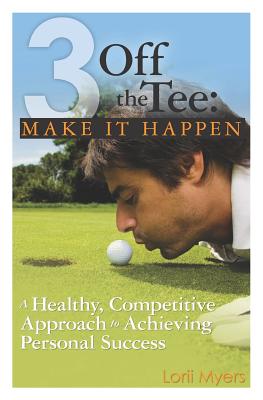 3 Off the Tee (Paperback)
Make It Happen
Leda Publishing Corp., 9780986790034, 304pp.
Publication Date: November 9, 2011
* Individual store prices may vary.
Description
3 Off the Tee: Make it Happen A Healthy, Competitive Approach to Achieving Personal Success by Lorii Myers (Copyright 2012) Make it Happen by Lorii Myers follows her first book, Targeting Success, in her 3 Off the Tee series. Being a golf fanatic, the analogies she uses make her books fun and sports-oriented, and in her latest guide, which promotes a healthy, competitive approach to achieving personal success, she tells you to visualize every shot and how you will play to win. What does success in life mean to you? How will you ultimately reach your goals? Is fear, procrastination, or negativity in self-talk and thought processes holding you back? Then Myers will take you to the driving range to encourage you to practice and work hard to develop your skills while making sure you are aligned correctly to hit your target. Teaching you how to cultivate a well-honed and resilient mindset, she will then show you how to devise a flexible, measurable, well-thought-out action plan that uses solid, action-oriented strategies to track your improvements. How you live your life is your choice, and if you find things aren't working out, you can change midstream. There's no need to adopt a stereotypical lifestyle or follow anyone's example. The important thing is, what will work for you? Examine whether you are truly content and whether that contentment has enough substance to last you a lifetime. If not, embrace change, which could come in the form of opportunities. For example, in the workplace, your skills might also work well in other areas where you would feel more challenged or make quicker progress. Maybe you are drawn to a completely different profession such as journalism, law, teaching, or the performing arts, or you might be attracted to a sales and marketing position that would entail extensive travel. Myers wrote Make it Happen to help you when what you see as achievable brushes your life, when you figure out that the status quo no longer cuts it, and when you combine desire, determination, and knowledge and decide it's time to grab hold of your dreams and run with them. She wants you to be fully prepared to pull your dreams in from the fringe, get unstuck, feel the urgency, and step up. If you are confident that you have done the work, know what you want, and deserve that chance-why settle?
About the Author
An empowered employee-turned-entrepreneur, Lorii Myers's three decades of business experience include a wide variety of career challenges: business manager, controller, senior manager, and business owner. Believing you should aspire to learn from those who inspire you, she was careful to choose her early employment opportunities well by working for entrepreneurial companies that were owned or managed by formidable entrepreneurs. When asked what she learned, Myers is quick to answer, "The right attitude is everything!" and in her early thirties, she left the security of employment to fulfill her own sense of entrepreneurial flair. Because of Myer's personal quest to explore every opportunity, she brings a wealth of knowledge and experience to her second book in a series, 3 Off the Tee: Make it Happen, challenging readers to, "Come out to play, take on the world, and make success yours!" Also author of 3 off the Tee: Targeting Success, Myers currently resides north of Toronto, Ontario.