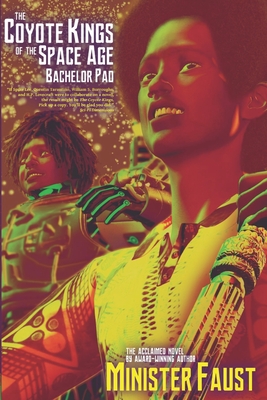 The Coyote Kings of the Space-Age Bachelor Pad
Paperback

* Individual store prices may vary.
Description
Don't call fanboys Hamza and Yehat slackers. They're just way too smart for a job market that has beaten them down. But when old enemies from high school, an ex-CFL leg-breaker turned health food kingpin, a van full of mind-enslaving, thanatodelic drug dealers, and a mysterious Ethiopian woman named Sherem with a centuries-old secret crush them like the walls of a Death Star trash compactor, Hamza and Yehat have only two options: Be awesome. Or die.
Narmer's Palette, 9780986902468, 402pp.
Publication Date: February 21, 2013
About the Author
Minister Faust is a long-time community activist, writer, journalist, broadcaster, public speaker, and martial artist in several disciplines. A maverick novelist increasingly described as one of the finest voices of his generation, Minister Faust is the author of the critically acclaimed The Coyote Kings of the Space-Age Bachelor Pad, War & Mir, The Alchemists of Kush, and the Kindred Award-winning Shrinking the Heroes. Minister Faust refers to his sub-genre of writing as Imhotep-Hop-an Africentric literature that draws from myriad ancient African civilisations, explores present realities, and imagines a future in which people struggle not only for justice, but for the stars. He lives in Edmonton with his wife and daughters.