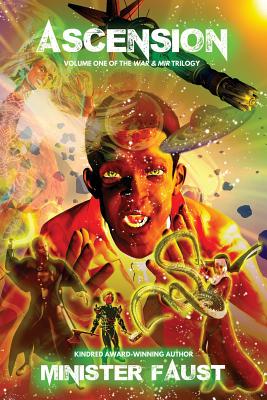 War & Mir, Volume I
Ascension
Paperback

* Individual store prices may vary.
Description
Taharqa "Harq" Douglass assumes that his best friend Thag is nothing more than a muckle-mouthed immigrant doctor from Sudan (or is it Somalia? or Yemen?). But when high-tech terrorists blast into Thag 's office, Harq accidentally discovers his friend is half James Bond and half Bruce Lee, and that he himself possesses a miraculous ability: chronosis-the power to behold the future.With Thag as his protector, Harq must use his startling power to rescue a beautiful, brilliant diplomat in order to stop a war that could claim millions of lives... and the only path to survival lies through the doomed Soviet space station, Mir.See the book trailer: http: //www.youtube.com/watch?v=AEemS9D1pt8&list=UU6go_MWgaiuR7E8Fp5jJ0fQ&index=1.
Narmer's Palette, 9780986902499, 194pp.
Publication Date: June 20, 2012
About the Author
Minister Faust is a long-time community activist, writer, journalist, broadcaster, public speaker and martial artist in several disciplines. A maverick novelist increasingly described as one of the finest voices of his generation, Minister Faust is the author of the critically acclaimed The Coyote Kings, Book One: Space-Age Bachelor Pad and The Alchemists of Kush, and the Kindred Award-winning Shrinking the Heroes. He refers to his sub-genre of writing as Imhotep-Hop-an Africentric literature that draws from myriad ancient African civilisations, explores present realities, and imagines a future in which people struggle not only for justice, but for the stars. He lives in Edmonton with his wife and daughters.