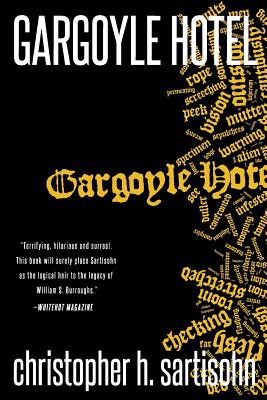 Gargoyle Hotel
Paperback

* Individual store prices may vary.
Description
In Gargoyle Hotel, book one of the Carbon City Trilogy, Christopher Sartisohn unleashes his new mythology for the digital age. Floating somewhere between hallucinatory novel and surrealistic short story collection, prose poetry and radical fiction, these modular "hypershorts" codify fragmentary and disjointed mindscapes unified through Sartisohn's singular vision. Exploiting an implicit control of language and idiom with the fierce experimentation of Joyce, Miller, and Burroughs, Sartisohn delivers a collage of hypnotic and often shocking imagery swinging pendulously between rapt euphoria and apocalyptic dystopia. Gargoyle Hotel is kaleidoscopic, sprawling, decadent, disturbing, wildly detailed, bursting with abstract technosexuality and existential paranoia-a hypermodern masterpiece of prophetic, ethereal beauty. "Christopher Sartisohn's debut novel Gargoyle Hotel is terrifying, hilarious and surreal. This book will surely place Mr. Sartisohn as the logical heir to the legacy of William S. Burroughs." -Noah Becker, publisher/editor-in-chief, WHITEHOT MAGAZINE "Sartisohn coaxes the reader along a fine wire between the beautiful and the horrific; this wire locally zigzags according to mild algorithmic randomness, but tends to resolve with unexpected coherence at larger scales. Across his vignettes we visit the extraterrestrial, oceanic, far-east, near-west, a slew of mythic and biological aberrations..., all generously distorted through the author's dream-lens. Gargoyle Hotel is a five star establishment." -Dr. J. D. Bingham (Microsoft, Intel*) "Hypnotic and haunting...Gargoyle Hotel reads like an experimental film script, filled with epic cinematic scenes." --Jason Rogan, producer (Amsterdam Heavy) "A book of shifting sand, each word a grain, and the wind constantly blowing." --Jam Hamidi, author (Chainlink) "A revolutionary collection of mind-bending shorts unfolding like scenes in a hallucinogenic screenplay...the density of prose approaches poetic dimensions...a stunning debut " --Henri Falconi, cinematographer / actor (Pi) "Post-modern gypsy-jazz literature; a virtuosic, sweeping, lyrical improvisation." -Robin Nolan, jazz musician/educator "Bohemian concrete poetry overtures are used to contextually enhance modular words with a Waits/Burroughs/Beefheart vibe." -Jeremy O. Turner, PhD (ABD), MA Interactive Arts (Simon Fraser University) Includes 39 pictorial "text art" collages by the author derived from the written text.
Carbonize Press, 9780987728104, 222pp.
Publication Date: November 11, 2014