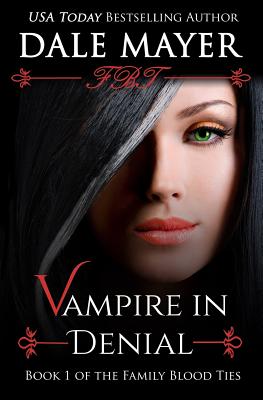 Vampire in Denial (Family Blood Ties #1) (Paperback)
Beverly Dale Mayer, 9780987741127, 218pp.
Publication Date: November 8, 2011
Other Editions of This Title:
Paperback (12/7/2013)
* Individual store prices may vary.
Description
Blood doesn't just make her who she is...it also makes her what she is.
Like being a sixteen-year-old vampire isn't hard enough, Tessa's throwback human genes make her an outcast among her relatives. But try as she might, she can't get a handle on the vampire lifestyle and all the...blood.
Turning her back on the vamp world, she embraces the human teenage lifestyle-high school, peer pressure and finding a boyfriend. Jared manages to stir something in her blood. He's smart and fun and oh, so cute. But Tessa's dream of a having the perfect boyfriend turns into a nightmare when vampires attack the movie theatre and kidnap her date.
Once again, Tessa finds herself torn between the human world and the vampire one.
Will blood own out? Can she make peace with who she is as well as what? EXCERPT No, Cody had some serious skills, at least according to David. It would take a lot for someone to get the drop on him. "Psst." He just didn't have much class. Turning around, Tessa watched Cody land in front of her. His graceful controlled landing made her instantly jealous. "There's no sign of anything unusual going on." "No, of course not. Why would there be? It's not like they're going to advertise that they've kidnapped humans." She studied the huge stone mansion. "The captives are most likely to be downstairs," she said slowly, eyeing the lowest level. "Whoa. You're not going into the house. If you're determined to take this further, we go back to our parents and let them go to the council. They will determine the best course of action." Tessa stared at him in disbelief. Everything about the night had taken on a surreal appearance. She was here, where Jared was being held, with someone who could actually help her and he wanted to go for their parents. No knight riding to the rescue here. Then he'd been raised by the old belief that vampires don't go against vampires - without just cause. She didn't think she could come up with enough evidence to prove her case. She snagged his arm, willing him to listen. "We have to at least see if they are here." "No. No way." He pulled away and turned, prepared to leave. "Please." "No Tessa." He shook his head, his vampire eyes glowing with terrible heat. "That's enough. This isn't a kid's game. This is vampire business." "And who's going to believe me? No one. I'm not like you. My word doesn't mean anything to the others. If you don't see that Jared's been taken and kept as a captive yourself, you won't be able to convince them either." He shook his head. Fine. She'd go in alone. Turning away, she headed to the back of the house. "Go back home. I don't need you." "What the..." He raced behind her. "Tessa stop. You can't go inside there. You're not allowed." "And they're allowed to take humans?" She snorted. "I don't think so." The moon slid out from behind the clouds, highlighting the lower level of the house. Off to the left, a set of stairs cut down to a narrow wooden door. Probably the cellar. Perfect. She picked up her pace, reaching for the knob in seconds. She bolted though the unlocked door before Cody could drag her back out. Down a narrow hallway, she fled through another door that led to a wide open space. Empty space. Damn it. Could the prisoners have been moved already? How? There hadn't enough time for that. "There, are you satisfied now?" She spun around at the sound of Cody's voice. "No." She walked the perimeter of the room. At the far end, the room curved down and around. This place was huge. At the far end, her nostrils flared. Her weird knowing sense kicking in. Animal. Death. Fear. Pain. This area had been used as housing for animals during the cold winter months. Horses, most likely. Ancient farm smells permeated the air. Hay. Manure. Blood. "What's the matter?" Cody whispered. She looked at him. "Can't you smell it?" "Smell what?" "Pain. Death.
About the Author
Freelance writer Dale Mayer lives in the beautiful Okanagan valley in British Columbia, Canada. She's multi-pubbed in nonfiction and is currently writing The Essential Series including The Career Essential Series(The Resume, The Cover Letter, The Interview), Lifestyle Essentials (Ergonomics for today's world, Raising the dyslexic child, etc.), and the Gardening Essential Series, (Beginning with Bulbs, Urban Farming, Gardening for Seeds, etc.). Stay tuned as she adds to these and several other proposed series. For the last decade, she's written on all of these topics either under her own name or as a ghostwriter. As a researcher and technical writer, Dale has a wealth of knowledge she can't wait to share! However, fiction is her passion. Here, she writes taut psychological suspense with romance and paranormal elements. She has recently branched out into writing both mystery and urban fantasy books for young adult with the occasional vampire book thrown in just for fun.