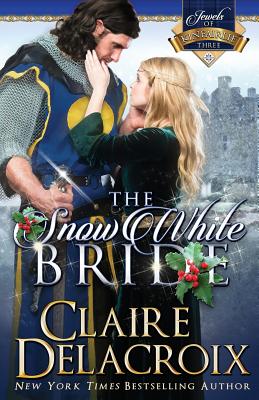 The Snow White Bride (Jewels of Kinfairlie #3)
Paperback

* Individual store prices may vary.
Other Editions of This Title:
Compact Disc (11/8/2016)
Compact Disc (11/8/2016)
MP3 CD (11/8/2016)
Description
The Laird of Kinfairlie has helped his sisters, each a gem in her own right, to find husbands. Now the laird himself seeks to wed, and pins his hopes on The Snow White Bride.
Lady Eleanor knows better than to dream of romance and love. Married twice to secure her father's alliances, she has learned that she is desirable only for her fortune. When the Laird of Kinfairlie's sisters ask her to wed their brother, Alexander, Eleanor agrees, expecting only to save herself from danger. But Alexander is like no man she's known before, a man more interested in courting her smile than her obedience, a man who values her counsel as much as her newly awakened passion...and a man unaware that Eleanor is the key to a fortune that could ensure the future of everything he holds dear. Now, ruthless enemies will stop at nothing to secure Eleanor's capture. Will she dare to trust her new husband before it's too late for her, for Alexander, and for Kinfairlie?
This edition contains the bonus short story, "The Ballad of Rosamunde".
Deborah A. Cooke, 9780987839923, 346pp.
Publication Date: January 20, 2012
About the Author
Bestselling author Claire Delacroix published her first romance novel - a medieval romance called THE ROMANCE OF THE ROSE - in 1993. Since then, she has published over forty romance novels and numerous novellas, including time travel romances, contemporary romances and paranormal romances. THE BEAUTY, part of her successful Bride Quest series, was her first book to land on the New York Times list of bestselling books. Claire has written under the name Claire Cross and continues to write as Deborah Cooke as well as Claire Delacroix. Claire makes her home in Canada with her family, a large undisciplined garden and a growing number of incomplete knitting projects.