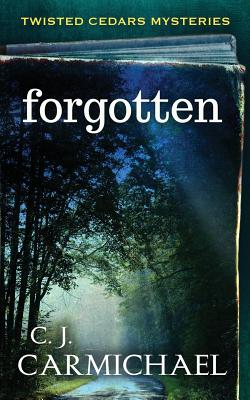 forgotten (Paperback)
a twisted cedars mystery
Cj Carmichael, 9780987861375, 242pp.
Publication Date: May 28, 2015
* Individual store prices may vary.
Description
Forgotten, Twisted Cedar Mysteries #2After a shocking secret is uncovered in Twisted Cedars, Oregon, fresh trouble surfaces. Sheriff Wade MacKay is fishing on the Rogue River when he comes across a cargo truck crashed off the side of a winding mountain road. The driver is dead. The sole passenger, a woman in her early thirties, is unconscious with a severe head injury. When she comes to, the next day at the hospital, she is suffering from amnesia. Since she carried no ID, there is no clue to her identity. Judging by the woman's bruises, which pre-date the accident, Wade suspects she was running from danger when she hitched a ride with the truck driver. But how can he protect her, when he doesn't even know who she is? Wade's office is already working overtime, investigating the death of one of his former school friends. While true crime writer, Dougal Lachlan, is avoiding writing a book that would force him to confront his inner demons. Twisted Cedar Mysteries Buried (Book 1) Forgotten (Book 2) Exposed (Book 3)
About the Author
USA Today Bestselling author C. J. Carmichael has written over 45 novels in her favorite genres of romance and mystery and has over three million books in print. She has been nominated twice for the Romance Writers of America RITA Award, as well as RT Bookclub's Career Achievement in Romantic Suspense award, and the Bookseller's Best honor. C. J. Carmichael lives in Calgary, Alberta and likes to spend her free time hiking and skiing in the Rocky Mountains with her husband and grown daughters.