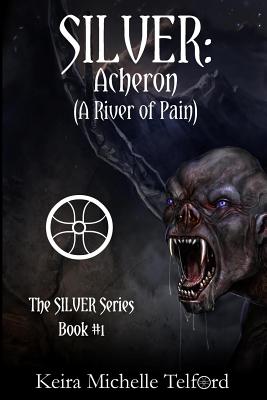 Silver
Acheron (A River of Pain)
Paperback

* Individual store prices may vary.
Other Editions of This Title:
Paperback (11/10/2012)
Paperback (3/15/2013)
Paperback (11/6/2012)
Paperback (5/19/2012)
Paperback (5/26/2012)
Paperback (12/26/2012)
Description
2342 CE Dishonorably discharged from the Hunter Division and banished for crimes she did not commit, Silver struggles to come to terms with her new prison-like surroundings: a segregated area of the city called the Fringe District, populated by murderers, thieves and rapists. Starving, and desperate for money, she reluctantly accepts the Police Division's invitation to enroll in a covert Bounty Hunter program: an initiative devised to infiltrate the criminal underworld of the Fringers, and to force the very worst warrant dodging law-breakers to meet their fate-death. Unfortunately, Silver doesn't realize that the Police Division is about to up the ante. They need more than little snippets of information and arrests-they need someone to pull the trigger. They need an executioner. --------------------------------- SILVER: Acheron is the first book (a 40,000 word novella) in a 10-book series featuring the character of Ella 'Silver' Cross. Set more than 300yrs in the future, the Silver Series takes place in a post-apocalyptic, dystopian world where humans are a species on the brink of extinction. No longer at the top of the food chain, humans are preyed upon by the Chimera-genetic mutants that outnumber humankind 25:1. And Silver is a Hunter-the best in the city. She'll risk her life in the pursuit of a human resurgence on Earth. The question is: will you join her? JOIN THE FIGHT.
Venatic Press, 9780987870100, 164pp.
Publication Date: November 30, 2011
About the Author
Keira Michelle (1983-) was born and raised in the UK. She moved to Canada in 2006, and there she still resides in her west-coast townhouse with a husband and 9 guinea pigs. She is the author of a 10-book series of post-apocalyptic dystopian science fiction novels, all centering on the lead character of Ella 'Silver' Cross. In series order: SILVER: Acheron (A River of Pain) SILVER: The Lost & Damned SILVER: Entropy SILVER: A New Age Dawns SILVER: Bedlam SILVER: Inamorato SILVER: Invidia SILVER: Distant Waters SILVER: Deep In Earth SILVER: Eden Echo
or
Not Currently Available for Direct Purchase