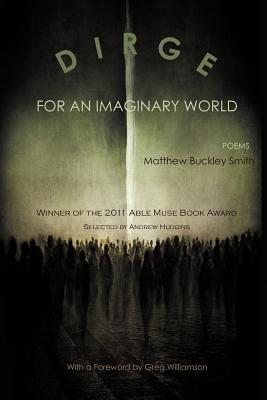 Dirge for an Imaginary World
Poems
Paperback

* Individual store prices may vary.
Description
Poetry. DIRGE FOR AN IMAGINARY WORLD is the winner of the 2011 Able Muse Book Award, selected by Andrew Hudgins. These are poems of breathtaking craftsmanship that find inspiration in the simplicity of the quotidian, or the perplexity of the grand. Smith is equally at ease musing about Neanderthals or God as he is with a ballet exam or highway medians. These poems of personal and universal introspection are filled with grace, and sparkle with abundant intelligence and wit. This masterful debut collection is an event to celebrate.

In this deeply impressive debut volume of poetry, DIRGE FOR AN IMAGINARY WORLD, Matthew Buckley Smith delivers a remarkable range of deft formal schemes, temporal movements, and varied settings. We encounter sonnets, couplets, quatrains, Sapphics, sestets and so forth written with a slick, delightful merging of technical expertise and smooth contemporary rhythms. The range of subjects is equally and as charmingly eclectic, from Neanderthals, Dante, Vermeer, for instance, to College Football Mascots, Highway Mediums, and Spring Ballet Exams. Mental and linguistic agility generously challenge the reader in poem after poem.--Greg Williamson, from the Foreward.
Able Muse Press, 9780987870506, 80pp.
Publication Date: April 10, 2012