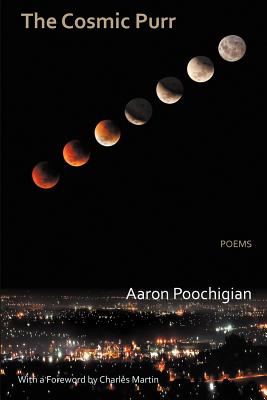 The Cosmic Purr (Paperback)
Able Muse Press, 9780987870520, 80pp.
Publication Date: February 29, 2012
* Individual store prices may vary.
Description
Poetry. With a Foreword by Charles Martin. THE COSMIC PURR is the first collection of original poetry from Aaron Poochigian, well-known for his translations of Sappho, Aeschylus, Aratus and Apollonius of Rhodes. From the mythical to everyday themes, from the landscape of North Dakota to scenes in a bar, at a marriage ceremony, before birth or before death, Poochigian's verse is enlightened by uncommonly fresh wisdom, and deployed in the delightfully masterful, elegant and naturally-flowing metrical forms his translations are known for.

"Aaron Poochigian's technique is masterly, the tone tends to be tart, disillusioned, cryptic, and elegant, and it's easy to be beguiled by these poems' wit and bravura. But the pyrotechnics are used to serious ends, and the scenes that are fitfully illuminated, whether they occur in landscapes as quotidian as contemporary North Dakota or as otherworldly as mythical Greece, whether they are chilling or exhilarating, are always immediate in their reality, and they speak to the reader with a compelling cogency." Dick Davis

"Aaron Poochigian is both a classicist and a neo-classical poet. By this I mean that he prefers as subjects the common occasions of our lives and articulates them uncommonly, in verse rich with the kind of detail that becomes a style passed on in an act of friendship between him and the poets of the past who have served as his mentors." Charles Martin

"It is a delight to have some of Aaron Poochigian's modern New York replies to famous Sappho poems. Reading them is like eavesdropping on a New York wise guy discussing the 'night before' with a classical scholar: sexy, witty, learned, and moving. Worth hearing, worth re-reading, too." Diana Der-Hovanessian

"What is the cosmic purr? Pussycat poet Aaron Poochigian is the one to show us in his ebullient lines. He returns where he started to the northern plains then spins on a dime to the wider world 'where life was all night long / drinking and dancing, bursting into song.' In 'The Parlor' he nods ironically to his Armenian heritage, and a few pages later he lights an elegiac candle for a dying friend. A major translator from classical Greek, Poochigian offers in his own poetry a hip formality, a timeless sense of the contemporary, and when he brings the classics into this scene they live again as freshly as ever." David Mason.