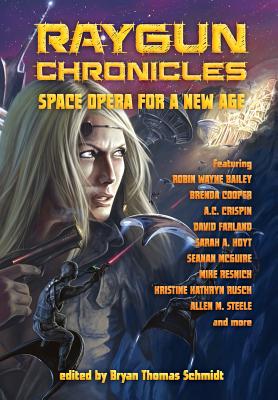 Raygun Chronicles (Hardcover)
Space Opera for a New Age
Every Day Publishing, 9780988125759, 360pp.
Publication Date: December 3, 2013
Other Editions of This Title:
Paperback (12/9/2013)
* Individual store prices may vary.
Description
A school teacher who moonlights as an assassin, a corporate agent kidnapped and faced with a man she never wanted to see again, galactic knights and pilots defending the spaceways, a black bear who wants to be a priest, and a time traveler who discovers he was born a prince - these and more tales await you inside RAYGUN CHRONICLES: Space Opera For a New Age, a collection of new tales in the Golden Age style. With larger than life heroes, rayguns, space ships, robots, pirates, romance and more, here come 25 new tales of great fiction from top names like Seanan McGuire, Kristine Kathryn Rusch, A.C. Crispin, Allen M. Steele, Mike Resnick, David Farland and more. Strap in, set your weapons, and get ready for a fun ride.