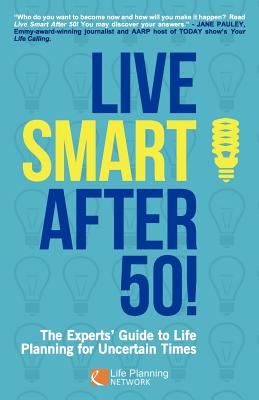 Live Smart After 50! (Paperback)
The Experts' Guide to Life Planning for Uncertain Times
Life Planning Network, 9780988190702, 234pp.
Publication Date: December 21, 2013
* Individual store prices may vary.
Description
Live Smart After 50 is welcome and essential handbook for anyone at midlife and beyond. It provides lucid, motivating responses to the challenges of aging in the 21st century: the knowledge and tools to shift attitudes, update skills and shape a smart map for a future of security, wellbeing, meaning and new possibilities. In a unique collaboration, thirty-three of the nation's top experts in life planning and positive aging distill the most critical issues. From finding work, community, creativity, purpose and legacy to financing your dreams, making sure your voice is heard, anticipating the challenges of aging, and living with purpose and vitality, Live Smart After 50 offers friendly, focused, forward-thinking and action-oriented help. Rich in practical experience and wisdom, self-exploration exercises, and diverse resources, Live Smart After 50 is a companionable guide for planning and preparing for the second half of life. It will help readers get the big picture, identify and reduce risks, expand choices, and prepare to take advantage of - rather than fear - the future. Live Smart After 50 is jam-packed with tools that will enable readers to: * think about and strategically plan for the reality of a longer life * let go of old expectations in order to make room for new opportunities * create a life inventory as a way to more fully understand how to see and chart the future * think about how they want to live and who they want to be, in this second chapter of life.