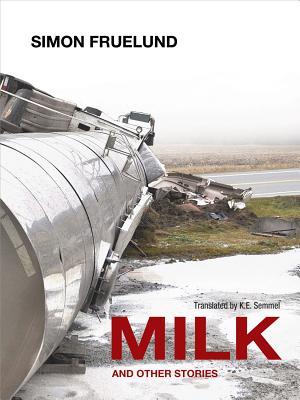 Milk and Other Stories
Paperback

* Individual store prices may vary.
Description
The 14 stories in this collection display the often quiet, inconspicuous way in which terrible truths and experiences are intimated: the death of a sailboarder makes a widower see deeper into love and loss; a young poet visits his former teacher only to discover he is literally not the person he used to be; a middle-aged man glimpses the terrible humdrum of his third marriage as his son embarks on a new chapter in his life. Conveyed without grandeur or pathos, the revelations in these minimalist stories demonstrate clearly and effectively Fruelund's gift of subtlety and nuance; like scenes from life, characters' dramas are played out in brief but brilliant flashes. Ranging across the wide arc of human experience, from the comic to the tragic, each piece explores the complex emotions of the human heart.
Praise For Milk and Other Stories…
"Frueland is a master of the short form, importing some designs from our own Raymond Carver, applying them to the interstices of the European everyday, and making them his own. The title story is a masterpiece in miniature." —Alan Cheuse, All Things Considered

"This consistently beautiful book has a quietness that recalls the stark Danish countryside, the stories' primary setting. In the most memorable vignettes, Fruelund's short bursts of sentences express inner turmoil so nuanced as to be incognito." —Publishers Weekly 

"This slim collection is not only nuanced, but powerful in how it uses stripped down prose to examine complexities in human relationships." —Serena M. Agusto-Cox, Savvy Verse & Wit

"Fruelund takes the functionality of an Egg chair and the irony of Kierkegaard to weave a collection of stories that linger and make us question those small moments, seemingly small decisions, that effect us more than we think they will." —Monica Carter, Three Percent
Santa Fe Writer's Project, 9780988225275, 110pp.
Publication Date: October 1, 2013
About the Author
Simon Fruelund is the author of five books in his native Danish, including Panamericana. His work has been translated into English, Italian, and Swedish, and his short stories have appeared in a number of U.S. magazines. K. E. Semmel is a writer and translator whose work has appeared in Aufgabe, the Bitter Oleander, the Brooklyn Review, Hayden's Ferry Review, Ontario Review, Redivider, the Washington Post, World Literature Today, and elsewhere. His translations include Karin Fossum's The Caller and Jussi Adler Olsen's The Absent One. He has received translation grants from the Danish Arts Council. He lives in Bethesda, Maryland.