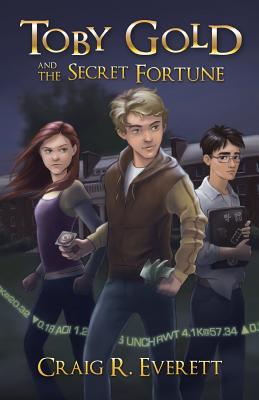 Toby Gold and the Secret Fortune (Paperback)
Fiscal Press, 9780988237414, 256pp.
Publication Date: November 11, 2014
Other Editions of This Title:
Hardcover (10/1/2012)
* Individual store prices may vary.
Description
Toby Gold is a seventh grader in Wallingford, Connecticut who has always known that he is good with money but has no idea how good until he discovers a dangerous hidden society of money and intrigue that co-exists with the everyday world we all know. He stumbles upon this dark financial world one day when he discovers secret messages encrypted into the stock ticker crawl that moves along the bottom of the screen on the financial news channel. Toby's shock only grows worse when he realizes that the secret messages are directed to him His unique abilities with math and money have been noticed by the wrong people, and Toby is quickly sucked into a high-stakes life or death financial conspiracy that he is only able to resolve by using his amazing skills with money. This action-packed urban fantasy introduces readers to many financial literacy concepts, including saving, investing, banking, entrepreneurship, time value of money and basic financial statements.
About the Author
Craig R. Everett was born and raised in Maine, spending his childhood summers digging randomly along the shores of Bar Harbor for buried pirate treasure. Fortunately, he was able to avoid ruining his oversized sense of adventure by remaining blissfully unaware that pirates seldom, if ever, ventured that far north. He received his B.A. in Quantitative Economics from Tufts University, a Master's in Business Administration (MBA) from George Mason University, and a PhD in Finance from Purdue University. Dr. Everett's career in industry has included four years at Accenture, eight years at Northrop Grumman, and several additional years involved with various start-up ventures. Dr. Everett is currently a full-time finance faculty member at Pepperdine University in Malibu, California, where he teaches corporate and entrepreneurial finance. Dr. Everett is married with five amazing children ranging from eighteen to six years of age. Believing that lack of financial education was a leading cause of the financial crisis of 2008, Dr. Everett is a tireless advocate for youth financial literacy. He volunteers in public school classrooms teaching financial principles. He has previously served as a member of the board of directors for Junior Achievement of Greater Lafayette. He currently serves as a classroom volunteer for Junior Achievement of Southern California.