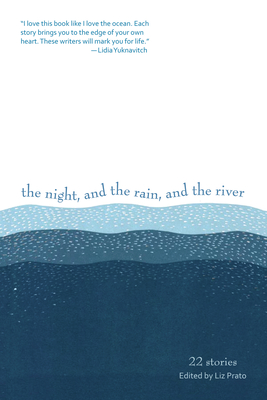 The Night, and the Rain, and the River: 22 Stories (Paperback)
22 Stories
Forest Avenue Press, 9780988265752, 236pp.
Publication Date: May 1, 2014
Description
A current of longing runs through twenty-two short stories by Oregon writers. As the characters strive for connection, they make mistakes, reach out to the wrong people, and recalibrate their lives based on what they desire, whether or not it's attainable--or even a good idea. Editor Liz Prato has curated a powerful collection of smart, funny, sad, and exquisite stories about the losses that shape our lives.
About the Author
Liz Prato: Liz Prato's short story collection, Baby's on Fire, is forthcoming from Press 53. Her stories and essays have appeared in many journals, including Hayden's Ferry Review, Subtropics, The Rumpus, Iron Horse Literary Review, Hunger Mountain, Carve, and ZYZZYVA. Clare Carpenter: Clare Carpenter is a letterpress printer, book artist, and illustrator. Her work is heavily inspired by place and how our landscape is imbued with personal histories, often blending narrative with traditional and contemporary print methods. She is the proprietor of Tiger Food Press. Scott Sparling: Scott Sparling's novel, Wire to Wire (Tin House Books, 2011), received a 2012 Michigan Notable Book Award. Sparling's work has been supported by the Seattle Arts Commission and the Oregon Arts Commission. He is currently finishing a novel about Occupy, Jimi Hendrix, and organ theft. Joanna Rose: Joanna Rose has published poems, stories, essays, reviews, one novel called Little Miss Strange, and several pieces that are none of the above. She lives in Portland and teaches here and there, including in her dining room as part of The Pinewood Table group. She has dogs. Sage Cohen: Sage Cohen is the author of the poetry collection Like the Heart, the World from Queen of Wands Press and the nonfiction books Writing the Life Poetic and The Productive Writer (Writer's Digest Books). Sage offers support and encouragement for writers at pathofpossibility.com. Jan Baross: Jan Baross's background is in filmmaking, art, and theater. Her first novel, Jose Builds a Woman, won first place for fiction in the Willamette Writers Kay Snow Awards. She posts a sketch a day on her Facebook and blog of happenings around Portland that she attends. janbaross.com. Gail Bartley: Gail Bartley's work has appeared in the Berkeley Fiction Review and Carve Magazine, among others. She is first-place winner in the 2013 Nature of Words Rising Star competition, and her screenplay Goodnight, Irene has been optioned multiple times. Also a dancer, choreographer, and painter, she directs The Jazz Dance Collective and manages a domestic violence intervention program in Bend, Oregon. Victoria Blake: Victoria Blake is a Portland resident, a graduate of the Warren Wilson Program for Writers, and, in a previous life, the founder and publisher of Underland Press. She is the publisher of InFact Books, the imprint from Creative Nonfiction Foundation. victoriablake.com Alisha Churbe: Alisha Churbe is always planning her next international escape. If you can pry the pen from her hand, Alisha can be found with her splendid husband, their amusing friends, and a delicious meal with wine. Ellen Davidson Levine: Ellen Davidson Levine writes in a studio built in the woods behind her rural Southern Oregon home. A winner of the Bloomie Award for her short story "My Mother's Closet," Ellen has also been published in various education and professional journals. She is currently working on a collection of short stories about the (semi) fictional Wineglass Valley. ellendavidsonlevine.com Steve Denniston: Steve Denniston lives in Portland, Oregon, and works at an elementary school with students who have autism. Whenever he gets the chance he writes, whether it's on a lunch break, at boring (or interesting) meetings, or during conversations with his wife--but that rarely ends well. "Are you listening to me?" "Yes." "Or are you thinking about a story?" "Ummm." "You're thinking about using this conversation in a story, aren't you?" "I'll tell everyone it's fiction, okay? Wait! Come back!" Trevor Dodge: Trevor Dodge is the author of two collections of short fiction, (The Laws of Average and Everyone I Know Lives On Roads), a novella (Yellow #10), and collaborator on the writing anti-textbook Architectures of Possibility: After Innovative Writing. He teaches writing, literature, and comics studies at Clackamas Community College and the Pacific Northwest College of Art. He lives in Oregon City and also online at trevordodge.com Gregg Kleiner: Gregg Kleiner's novel, Where River Turns to Sky (HarperCollins), was a finalist for both the Oregon Book Award and the Paterson Fiction Prize. He grew up on creeks outside various small towns in Oregon, including Lookingglass, Langlois, and Silverton, and currently resides near the confluence of the Willamette and Marys rivers. His just-completed collection of short fiction explores community, elders, and climate change. Christi Krug: Christi Krug is the author of Burn Wild: A Writer's Guide to Creative Breakthrough and the creator of Wildfire Writing, a workshop helping writers overcome obstacles. She serves as coach and editor for writers across the country, and hosts a popular short story series at Cascade Park Community Library in Vancouver, Washington. christikrug.com Kathleen Lane: Kathleen Lane's stories can be found in Swink Magazine, Chronicle Books, Poor Claudia, Coal City Review, and elsewhere. She lives in Portland, Oregon, where she is a visiting instructor at Pacific Northwest College of Art, a writer-in-residence with Literary Arts' Writers in the Schools program, and co-host of the art and literary event series SHARE. kathleenlane.info Dylan Lee: Dylan Lee's day/night/weekend job is writing advertising copy. (Which is actually quite similar to Mad Men and Bewitched if you take out the excessive drinking, anything resembling a suit, and most witches.) He's been published in Fiction Attic and Phoebe. Beyond writing, Dylan enjoys spending time with his family, going to Africa on safari, and not dying on safari. Margaret Malone: Margaret Malone's work has appeared in The Missouri Review, Oregon Humanities, Swink, Coal City Review, latimes com, and elsewhere. She is the recipient of an Oregon Literary Fellowship and an Oregon Arts Commission Individual Artist Fellowship. A co-host of the artist and literary gathering SHARE, she lives in Portland with her husband and two children. margaretmalone.com Matthew Robinson: Matthew Robinson lives and writes in Portland, studies writing at Portland State University, and has had work recently appear at Split Lip Magazine, Black Heart Magazine, Drunk Monkeys, and Word Riot. matthewrobinsonwrites.com Lois Rosen: Lois Rosen's short stories have appeared most recently in: Alimentum: the Literature of Food, Calyx, Raven Chronicles, and VoiceCatcher. Traprock Books published her poetry book, Pigeons. A Salem, Oregon, resident, her writing often transports her back to the New York of her childhood. A graduate of Rainier Writing Workshop's MFA program, Lois has taught at Willamette University and Chemeketa Community College. Jackie Shannon Hollis: Jackie Shannon Hollis grew up on a farm in a small town on the east side of Oregon, where the view was wheat fields and combines. Her work has appeared in various literary magazines, including The Sun, Rosebud, Inkwell, High Desert Journal, and Slice Magazine. jackieshannonhollis.com Domi J. Shoemaker: Domi J. Shoemaker is an Idaho-raised, based in Portland, and a card-carrying member of Tom Spanbauer's Dangerous Writing group. Domi has been a youth counselor and crisis intervention specialist, publishing intern at Chiasmus Media, and is the founder of the Burnt Tongue reading series. Domi's fiction has appeared in [PANK] online, Unshod Quills, and Gobshite Quarterly. Tammy Lynne Stoner: Tammy Lynne Stoner has been a gas station attendant, a paid volunteer for medical experiments, a waitress at a Greek diner, a roadie for Willie Nelson, and a biscuit maker. Now she writes and teaches college. She earned her MFA from Antioch University, has been published most recently with Folio, 10,000 Pounds of Black Ink, and Unshod Quills. In 2013 she and her partner had twins, so currently Tammy is focused on catnaps, swaddling, and moving everything up one shelf. tammylynnestoner.com Jennifer Williams: Jennifer Williams is a big fan of all things Oregon and she and her daughter live in Portland. She is a graduate of Pacific University's Creative Writing Program, and prior to pursuing a career in writing, she worked as an engineer in Phoenix. Cindy Williams Gutierrez: Cindy Williams Gutierrez is a poet-dramatist whose Aztec-inspired poetry collection, the small claim of bones, is forthcoming from Bilingual Press. Her work has appeared in Borderlands, Calyx, Cider Press Review, Crab Orchard Review, Portland Review, Quiddity, Rain Taxi, and ZYZZYVA, among others. In 2014, her play, Words That Burn: A Dramatization of William Stafford, Lawson Inada, and Guy Gabaldon premiered at the Milagro Theatre. Cindy earned an MFA from the University of Southern Maine. She teaches poetry throughout Portland.
Advertisement